This store requires javascript to be enabled for some features to work correctly.
Rich, oil-based and made with beeswax to lock in the moisture that dry skin so desperately needs, the ointment can be used by all ages (from six weeks), all skin types and anywhere on the body, making it a one-pot wonder for all your skin needs!
Its gentle formulation with natural ingredients reduces the risk of skin irritation and itchiness from synthetic additives, and means that it is also suitable for people who may be prone to eczema, dermatitis, psoriasis and other dry skin conditions.
Cruelty Free
SLS, SLES & ALS Free
Free from Parabens, PEGS & Phthalates
 Free From Perfumes
Gluten Free
Palm Oil Free
30ml, 60ml, 120ml
Product Information
Description

This is Balmonds original award-winning natural moisturiser, exactly as first formulated by Natalie as an emollient for her daughter's highly sensitive skin. When every other cream irritated or flared-up Lula's sensitive skin, this lovely traditional balm kept her skin soft, supple and well-hydrated.

For a lighter daily emollient, especially suitable for use on the face or to maintain soft and supple skin all over the body, we would suggest you use Balmonds shea butter-based Daily Moisturising Cream instead of or as well as the ointment.

This product was previously called Purepotions Skin Salvation Intensive Moisturising Ointment.
Ingredients

Olea Europaea (olive) fruit oil* Cera Alba (beeswax) Carthamus Tinctorius (safflower) seed oil* Cannabis Sativa (hemp) seed oil* Aqua (water) and alcohol from tinctures Calendula Officinalis (calendula) flower extract** Chamomilla Recutita (chamomile) flower extract** Stellaria Media (chickweed ) extract** Urtica Dioica (nettle ) extract**
*organic ingredients. **biodynamic ingredients

Our products are hand made using natural ingredients; as such the product may vary in appearance from time to time but this will not affect the quality of the product. Does not contain nuts, soya, coconut, gluten or palm oil
How to Use

The ointment can safely be applied to any part of the body as thickly and as often as needed.

If it's a cold day then the ointment can be quite firm which makes it harder to apply; this is perfectly normal and is just a quality of the natural beeswax we use. You can warm up a small amount of the salve in your hand or fingers before use; that'll make it much easier to smooth on.

If your skin is really dry and in need of some intensive hydration, it can be really helpful to apply a good thick layer of ointment before bed and leave it on overnight. If you do this, we'd advise wearing old pyjamas as the salve can stain over time.

You can also use the ointment as the emollient in an overnight wet wrap treatment. In a similar way, you can apply the ointment to hands or feet last thing at night and wear under fine cotton/silk socks or gloves overnight to really boost the moisturising effect.

To reduce the risk of infection, use freshly-washed fingers or a spoon to scoop out the ointment and if you are using on infected skin, take care not to spread the salve from an infected area to other areas.

Skin Salvation can be used in conjunction with prescribed emollients and steroid creams.

As the salve is oil-based, please be careful when you're out in the sunshine! We'd advise that you don't apply ointment to exposed areas such as the face or lips before going out in strong sunlight as it can burn. Instead, use the salve last thing at night.

When applying moisturisers please remember to treat your precious skin with great care! Apply any emollients in the direction of your hair follicles to reduce the risk of further skin irritation or damage and try not to rub the skin.

The ointment is safe for use on babies (from six weeks) and children. It can be safely used on any area of the body, including your face, hands, scalp and feet.
Excellent product
Very pleased with emollient effect and relief for soreness
Skin problems
It didn't help much to clear my face rash.
I think it's good while using but I cannot see any long term effects as I would wish.
Fast service
I use this on my psoriasis that I have. It does help since it locks in moisture. I am using it in conjunction with another treatment. Doing a treatment 3 times a day of the same stuff does not work well. Very reasonable price.
Balmond's offers a natural and effective alternative for skin conditions like eczema, psoriasis, dermatitis and rosacea in adults and children.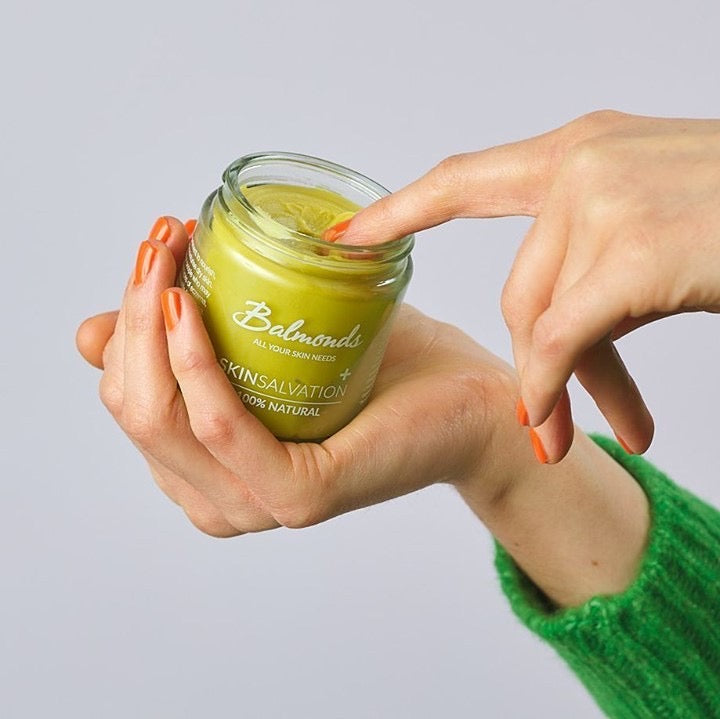 So what makes Balmonds different?
Their award-winning products are perfume-free and use high-quality natural ingredients like shea butter and hemp seed oil. These ingredients help to soothe, dry, sensitive and sore skin. They nourish sensitive and allergy-prone skin without synthetic and harmful ingredients. Their ingredients are all sourced in an environmentally conscious and sustainable way. They believe in sourcing ingredients fairly and ethically from local and organic sources.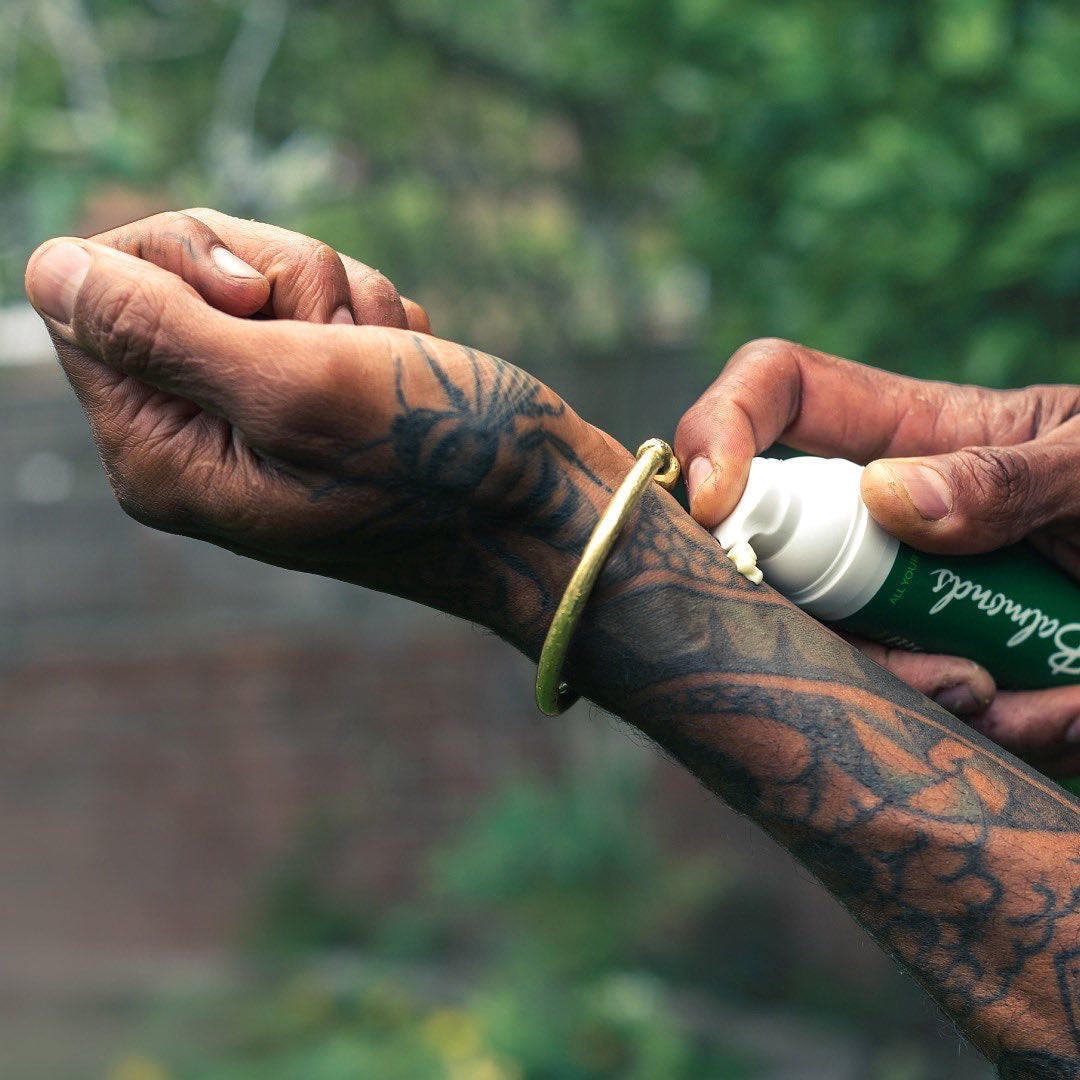 Balmonds are revolutionising the way people manage and treat their skin
71% of the global population suffer from sensitive skin and eczema affects over 20% of the world's children. Yet we still hear the phrase, 'I've tried everything but nothing seems to work!' That's why Balmonds goal is to innovate natural skincare and provide help in every way we can.
All Balmonds products are entirely free from synthetic perfumes and colours, petrochemicals, parabens, phthalates, propylene glycol, SLS/SLES, PEGs, methylisothiazolinone (MI) and methylchloroisothiazolinone (MCI).