This store requires javascript to be enabled for some features to work correctly.
A totally natural emollient oil made from a unique blend of super nutritious botanicals, including hemp, olive and chamomile, suitable for use anywhere on the body, and for all skin types and all ages (from 6 weeks).
Cruelty Free and Vegan
SLS, SLES & ALS Free
Free from Parabens, PEGS & Phthalates
 Free From Perfumes
Gluten Free
Palm Oil Free
200ml
Product Information
Description

This fabulously versatile blend has a multitude of uses: you can use it as a gorgeously-scented massage oil, as a shaving oil, as an emollient after a shower to lock moisture into thirsty skin, as a facial cleansing oil or as part of a baby changing kit.

Organic calendula intense golden-orange marigold flowers are steeped in oil to extract their soothing, nourishing properties

Lavender & chamomile Roman essential oils deliciously scented and naturally antimicrobial floral essential oils used to soothe, calm and protect

Organic safflower oil an exceptionally light, mild oil incredibly rich in skin-nourishing linoleic acid

Organic hemp seed oil is a highly nutritious skin food, rich in EFAs and brilliant at improving the skin's ability to retain moisture and keep cell membranes flexible

If you need an oil without even the gentle essential oils we use in this formula, try Balmonds pure and simple Omega-Rich Cleansing Oil instead.

Balmonds Bath & Body Oil is totally free from parabens, petrochemicals, preservatives or perfumes, which makes it perfect for dry skin and is also suitable for people who may be prone to eczema, psoriasis, dermatitis and dry, sore, itchy skin conditions.

Suitable for all ages and skin types, including babies from 6 weeks.
Ingredients

Helianthus Annuus (sunflower) seed oil* Carthamus Tinctorius (safflower) seed oil* Cannabis Sativa (hemp) seed oil* Calendula Officinalis (calendula) flower oil* Lavandula Angustifolia (lavender) essential oil* Anthemis Nobilis (Roman chamomile) essential oil Linalool, Limonene & Geraniol (from essential oils)

*organic ingredients

Our products are handmade using natural ingredients; as such the product may vary in appearance from time to time but this will not affect the quality of the product.

Does not contain nuts, soya, gluten, coconut, lanolin or palm oil.

All Balmonds products are entirely free from synthetic perfumes and colours, petrochemicals, parabens, phthalates, propylene glycol, SLS/SLES, PEGs, methylisothiazolinone (MI) and methylchloroisothiazolinone (MCI).
How to Use

As a bath oil: add about one tablespoon of oil to warm* bath water. Take care to wash the bath thoroughly after use and to use a anti-slip bath mat as calendula oil can stain and the oils can make the bath slippy.

*if your skin is prone to eczema or other dry skin conditions, it's a good idea to avoid having really hot baths as this can make your skin extra itchy and dry.

As a body oil: apply the oil liberally to any part of the body, face or hands as often as you need to throughout the day. Balmonds Bath & Body Oil is particularly effective as an emollient when used during or after bathing: apply the oil to skin that has been patted dry but is still a little damp to lock in moisture and keep skin soft and smooth.

As a facial cleansing oil: tip a small amount of oil - about the size of a fifty pence piece – into your palm and massage it carefully into your face, very gently working it into the areas around the eyes to loosen make-up. Can be left on for a couple of minutes if needed, especially if it's tackling thick mascara! Then remove with either a warm, wet washcloth or warm, damp cotton wool.

It can also be used as a shaving oil, an after shaving balm, or as a beautifully calming massage oil.

Balmonds Bath & Body Oil is safe for use on babies (from six weeks) and children. It can be safely used on any area of the body, including your face, hands and feet.

Keep in a cool dark place. For external use only.

*When using the bars, one thing that is very important is to lather the soap up really well, and to use lots of lather when washing your hair. The most common spot, especially for people with long hair, is at the back of the head. You need to work the shampoo into your hair with water and lather up so that the dirt and extra oils not needed by your hair can be washed away. If you are used to using normal commercial shampoo and shampoo twice, you will notice that the second wash produces a lot more lather. The first wash is mixing with the dirt and excess oil in your hair so the second wash is working on cleaner hair. The same is true for our shampoo bars. So lather up, once or twice. But please make sure to rinse every single time! And then make sure to use an apple cider vinegar hair rinse!

Massage lather into roots and through lengths of hair. Rinse out thoroughly.

We recommend using our Botanical Hair Rinse for amazing, bouncy & shiny hair but also to get rid of any soap/grease or product residue. Spray hair rinse thoroughly from roots to ends, comb and/or massage through. Leave on for about 20 seconds, then rinse out. Repeat if necessary. Important: Vinegar scent will disappear when hair dries.

Please don't use your shampoo bar once or twice and decide you don't like it, everyone's hair is different and it may take a little time for your hair to adjust. It may take up to two weeks to rid your hair from all the residue left over from the chemicals in the commercial shampoos. Give your hair time to adjust to the lack of chemicals and hair product build up. But stick it out and get through this period and you will realise just how much healthier your hair is, it will be soft and shiny in no time!
Balmond's offers a natural and effective alternative for skin conditions like eczema, psoriasis, dermatitis and rosacea in adults and children.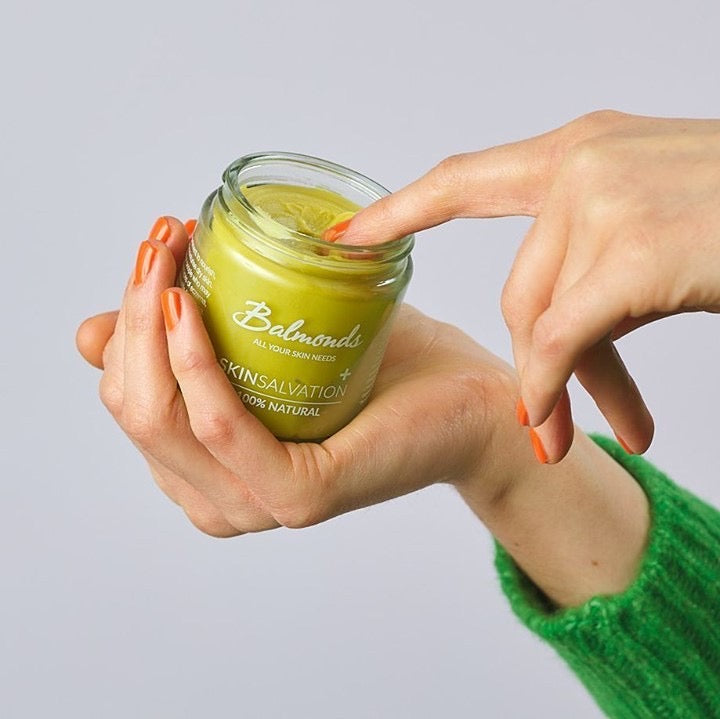 So what makes Balmonds different?
Their award-winning products are perfume-free and use high-quality natural ingredients like shea butter and hemp seed oil. These ingredients help to soothe, dry, sensitive and sore skin. They nourish sensitive and allergy-prone skin without synthetic and harmful ingredients. Their ingredients are all sourced in an environmentally conscious and sustainable way. They believe in sourcing ingredients fairly and ethically from local and organic sources.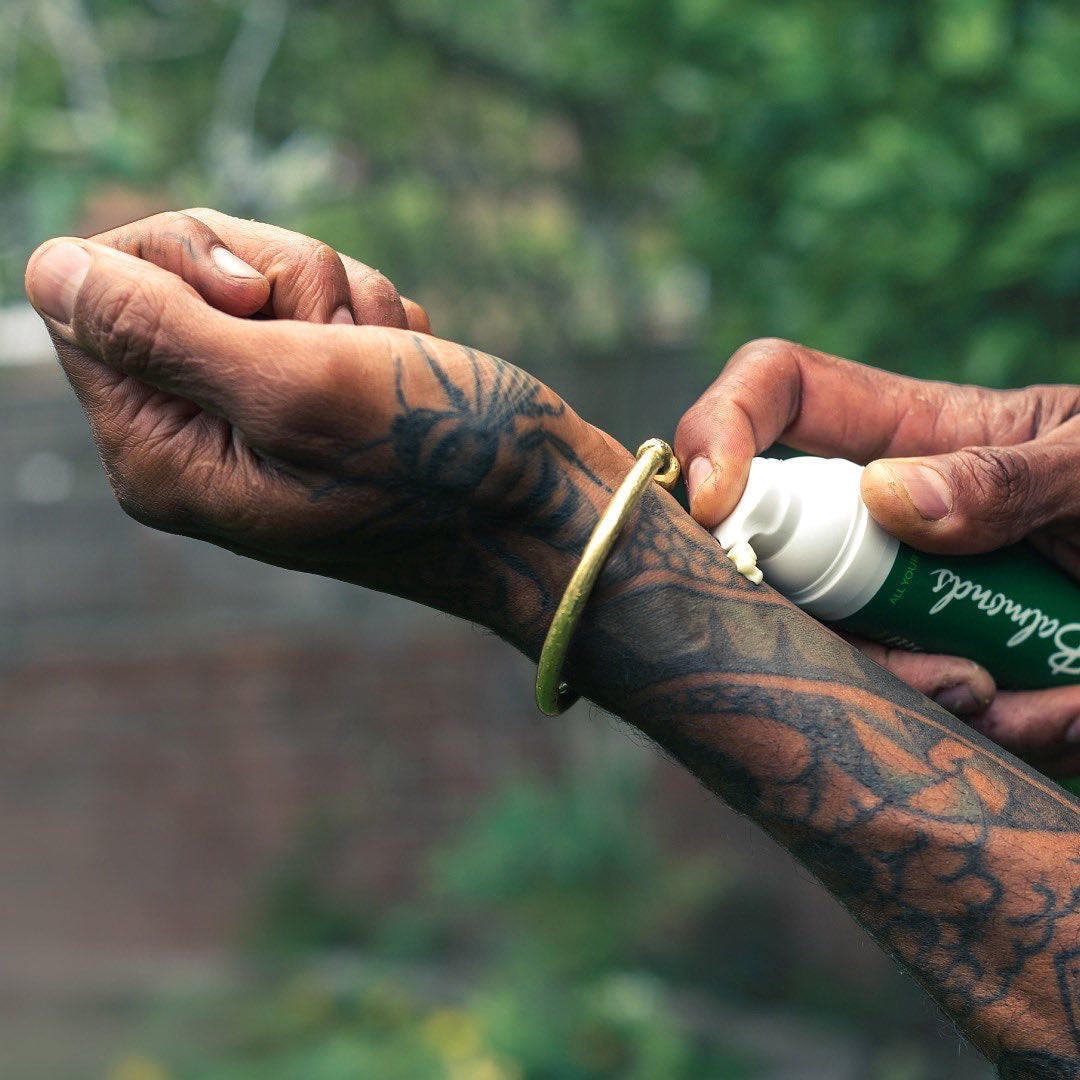 Balmonds are revolutionising the way people manage and treat their skin
71% of the global population suffer from sensitive skin and eczema affects over 20% of the world's children. Yet we still hear the phrase, 'I've tried everything but nothing seems to work!' That's why Balmonds goal is to innovate natural skincare and provide help in every way we can.
All Balmonds products are entirely free from synthetic perfumes and colours, petrochemicals, parabens, phthalates, propylene glycol, SLS/SLES, PEGs, methylisothiazolinone (MI) and methylchloroisothiazolinone (MCI).