This store requires javascript to be enabled for some features to work correctly.
Intensive Hand Cream is a deeply nourishing but wonderfully gentle cream that Balmonds formulated to keep hard-working hands healthy and hydrated. The soft, shea butter-based cream works both as a protective barrier against environmental irritants, and as a super-nutritious boost for skin that needs extra help, feeding it with the essential fatty acids and vitamins it needs to maintain its regular cycle of regeneration and repair.
Cruelty Free and Vegan
SLS, SLES & ALS Free
Free from Parabens, PEGS & Phthalates
 Free From Perfumes
Gluten Free
Palm Oil Free
50ml
Product Information
Description

Balmonds have designed this hand cream it to be mild and un-fragranced so you can use it as often necessary without worrying about further irritation from synthetic ingredients. Rich in hemp seed oil and blended with Roman chamomile essential oil, it uses the same four skin-kind herbs we use Balmonds Daily Moisturising Cream and Skin Salvation ointment (chamomile, calendula, nettle and chickweed), but in this case as extra potent macerated oils rather than herbal tinctures.

The cream is especially useful for those who need to wash their hands often throughout the day, or who come into contact with harsh detergents, allergens or irritating chemicals. These can leave skin sore, dry or cracked, and can aggravate conditions such as hand dermatitis, psoriasis or eczema. Care workers, health professionals, gardeners, climbers, mechanics, parents: this one's for you!

Sea buckthorn berry oil this incredibly rich little berry is a superfood containing massively high levels of Vitamins A, E, C and Omegas 3,6, 7 & 9, perfect for fighting the effects of ageing and skin damage

Shea butter: produced by a women's collective in Burkina Faso, our shea butter is a wonderful natural moisturiser that softens, hydrates and feeds the skin

Macerated oils of calendula, nettle, chickweed and chamomile herbs which have been used in traditional herbal medicine for centuries for their skin-kind properties

Organic hemp seed oil is a highly nutritious skin food, rich in EFAs and brilliant at improving the skin's ability to retain moisture

Roman Chamomile essential oil sweetly smelling and notoriously calming, this oil has traditionally been used to soothe inflamed and reddened skin

It's also rich and gentle enough to make a fantastic daily face cream, if you want something a bit more luxurious and rejuvenating than Balmonds Daily Moisturising Cream.

Intensive Hand Cream is totally free from parabens, petrochemicals or perfumes, which makes it perfect for dry skin and is also suitable for people who may be prone to hand dermatitis, eczema, psoriasis and dry, sore, itchy skin conditions.

For a more intensive emollient, especially if your hands are cracked or raw from itching, we would suggest you use Balmonds beeswax-based Skin Salvation intensive moisturising ointment.
Ingredients

Aqua (water) Olea Europaea (olive) fruit oil* Helianthus Annuus (sunflower) seed oil* Butyrospermum Parkii (shea) butter* Glycerin (vegetable origin) Cetyl Alcohol (plant-derived stabiliser) Cannabis Sativa (hemp) seed oil* Cetearyl Olivate (plant-derived natural emulsifierl) Sorbitan Olivate (plant-derived natural emulsifier) Hippophae Rhamnoides (sea buckthorn) oil Calendula Officinalis (calendula) flower oil* Stellaria Media (chickweed) oil* Chamomilla Recutita (Matricaria) (chamomile) flower oil* Urtica Dioica (nettle) oil* Glyceryl Caprylate (plant-derived natural emulsifier) Xanthan Gum (natural thickening agent) Anthemis Nobilis (Roman Chamomile) essential oil Benzyl Alcohol (preservative) Limonene (from essential oils)

*organic ingredients

Balmonds products are handmade using natural ingredients; as such the product may vary in appearance from time to time but this will not affect the quality of the product.

Does not contain nuts, soya, gluten, or lanolin.

All Balmonds products are entirely free from synthetic perfumes and colours, petrochemicals, parabens, phthalates, propylene glycol, SLS/SLES, PEGs, methylisothiazolinone (MI) and methylchloroisothiazolinone (MCI).
How to Use

Use as much and as often as you want, and re-apply after washing your hands.

Intensive Hand Cream is safe for use on babies (from six weeks) and children. It can be safely used on any area of the body, including your face, hands and feet.

Keep cool. For external use only.

The first time you use it, you'll need several pumps to release the air and begin to dispense the cream. Discard the small amount that collects in the nozzle between applications as exposure to the air can affect the appearance and the texture of the cream.
Brilliant
My hand never felt so soft!
Balmond's offers a natural and effective alternative for skin conditions like eczema, psoriasis, dermatitis and rosacea in adults and children.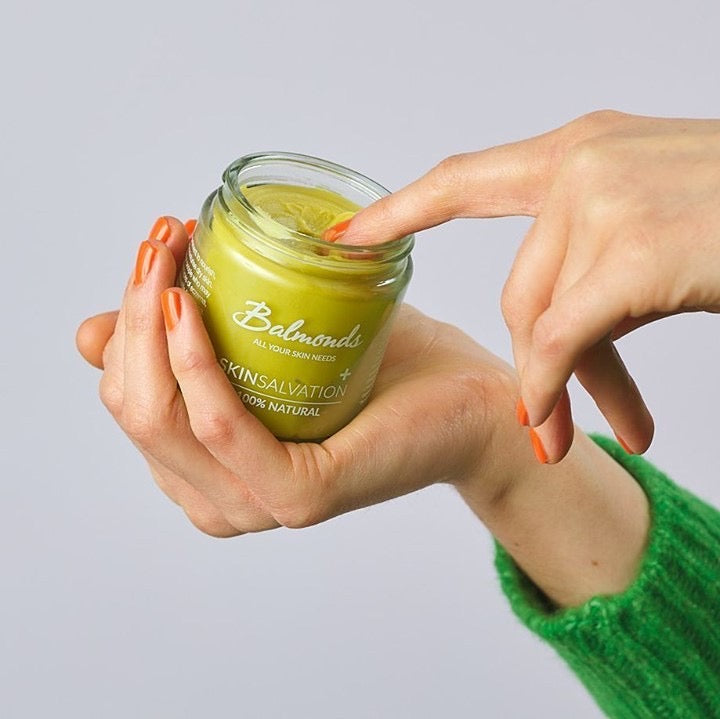 So what makes Balmonds different?
Their award-winning products are perfume-free and use high-quality natural ingredients like shea butter and hemp seed oil. These ingredients help to soothe, dry, sensitive and sore skin. They nourish sensitive and allergy-prone skin without synthetic and harmful ingredients. Their ingredients are all sourced in an environmentally conscious and sustainable way. They believe in sourcing ingredients fairly and ethically from local and organic sources.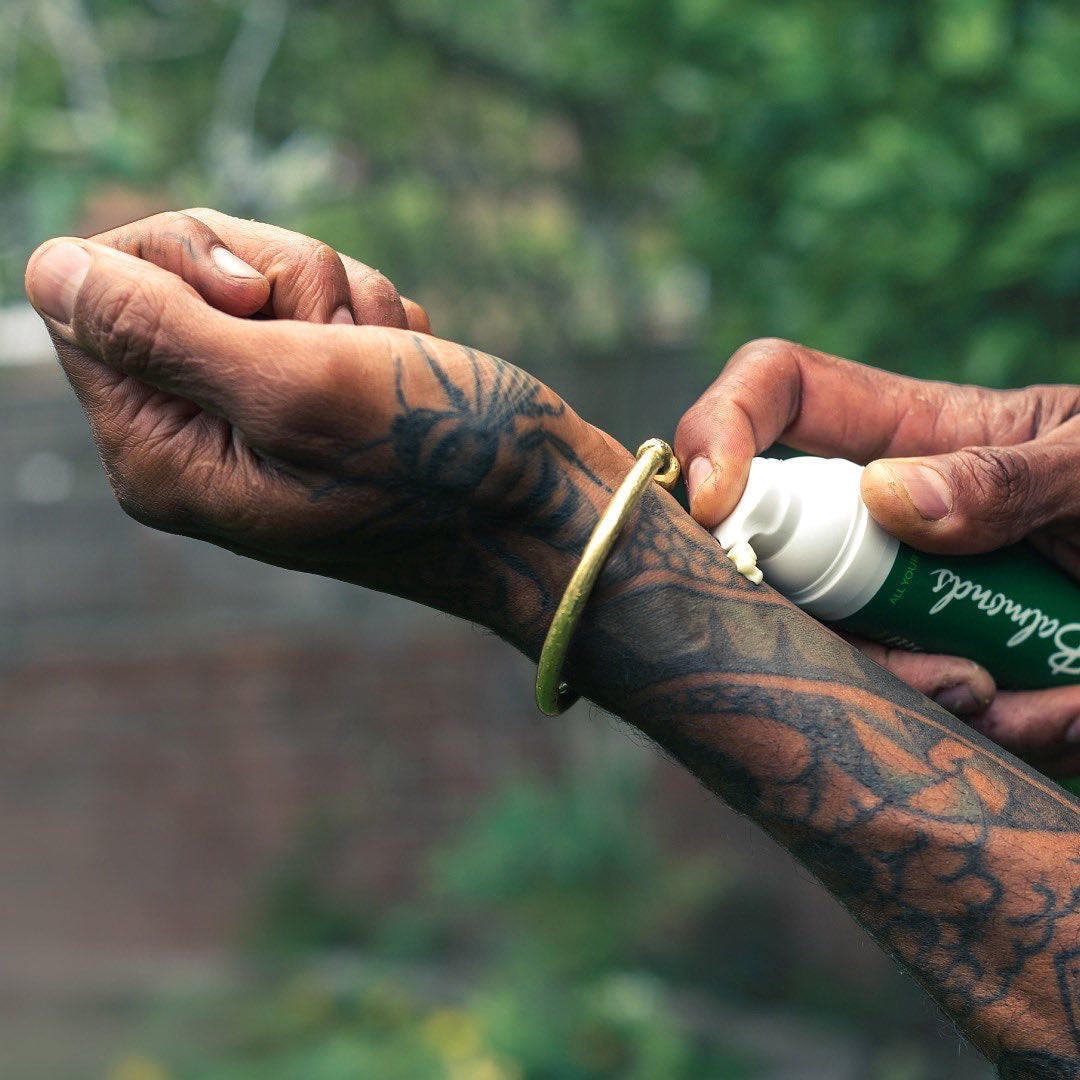 Balmonds are revolutionising the way people manage and treat their skin
71% of the global population suffer from sensitive skin and eczema affects over 20% of the world's children. Yet we still hear the phrase, 'I've tried everything but nothing seems to work!' That's why Balmonds goal is to innovate natural skincare and provide help in every way we can.
All Balmonds products are entirely free from synthetic perfumes and colours, petrochemicals, parabens, phthalates, propylene glycol, SLS/SLES, PEGs, methylisothiazolinone (MI) and methylchloroisothiazolinone (MCI).