This store requires javascript to be enabled for some features to work correctly.
Long day? Soak it away with Slow Down Bath Soak, a restorative soak inspired by the Japanese ritual of forest bathing. Immerse yourself in nature and soak up the healing powers of the forest with an invigorating blend of cedarwood, eucalyptus and rosemary oils. While mineral-rich Epsom salts detoxify and soothe you, natural CBD from upcycled whole hemp will re-balance your body and calm your mind. It's the perfect tonic to help you slow down, breathe, and let go of your busy day.
Made with just 5 natural ingredients
Vegan & Cruelty Free
Certified Organic by COSMOS
Palm Oil Free
Free From Parabens
100% Natural
Gluten Free
Suitable for all skin types
500g
Product Information
Description

The Skin & Tonic Slow Bath Soak helps you relax and restore with Cedarwood, Eucalyptus and CBD.

Calms your mind and eases stress.Lifts your mood and promotes wellbeing.Strengthens your skin's natural barrier.Soothes and supports irritated skin.Gently detoxifies your body.Relieves aches, pains and inflammation.Helps to relax and soothe tired muscles.

Made with just 5 ingredients;

Upcycled Whole Plant Hemp Extract with CBD -Whole plant hemp extract is a natural source of CBD, a cannabinoid with proven calming and anti-inflammatory powers. It soothes and supports the skin's natural protective barrier and helps to bring balance to both body and mind.

Epsom Salts - A rich source of essential minerals like magnesium. Epsom salts are known to detoxify the body, soothe aches and pains, calm skin irritation and promote relaxation.

Cedarwood Atlas Essential Oil - Cedarwood is a warm, woody fragrance that evokes the peace and tranquillity of a majestic forest. This organic essential oil is often used to strengthen and stabilise after an emotional upheaval.

Eucalyptus Essential Oil - has a distinctly crisp, clean and refreshing fragrance. A star ingredient in the Skin & Tonic Slow Down Bath Soak. It relieves tired muscles, stimulates the senses and helps you to breathe easier.

Rosemary Essential Oil - The fresh, herbal fragrance of rosemary oil helps to ease stress, lift your mood and focus your mind. Great for the body too. It's known to soothe aches, relieve inflammation and boost your circulation.
Ingredients

Magnesium Sulfate (Epsom Salts) Cannabis Sativa (seed) oil, Cannabidiol (CBD) Cedrus Atlantica (Bark) oil* Eucalyptus Globulus (leaf) oil* Rosmarius Officinalis (leaf) oil* Allergens:Limolene, Linalool, Citral, Farnesol, Eugenol

 

*Organically produced ingredient
How to use

Sprinkle in generously when your bath is about halfway full. Stir the bathwater and breathe in the aromatherapy blend as the oils warm up. Soak, breathe deeply and relax!
Skin & Tonic create effective, organic, sustainable skincare and selfcare that fits effortlessly into your busy, beautiful, chaotic and very real life.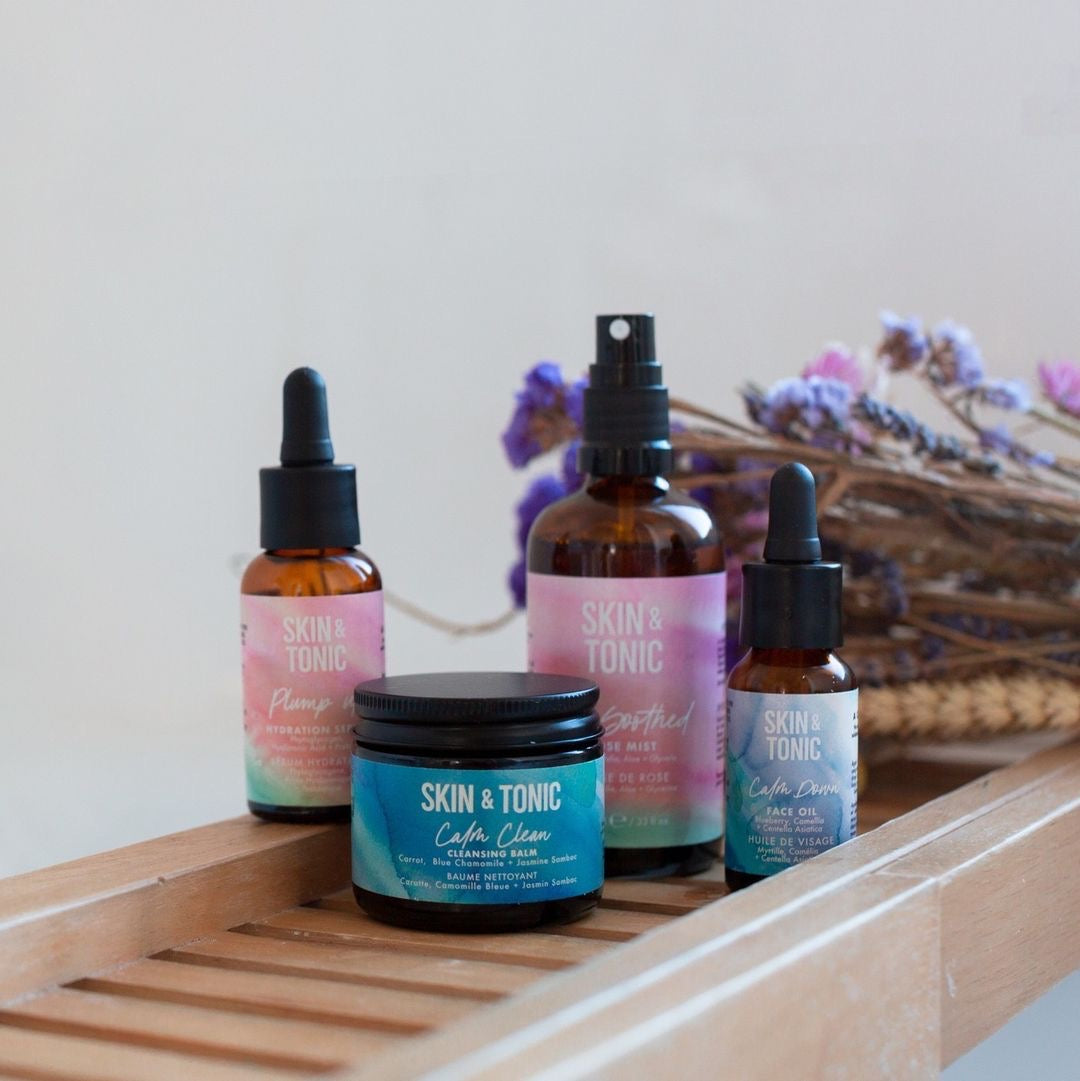 So what makes Skin & Tonic so special?
Skin & Tonic was created to help founder Sarah reduce some of the stresses in her life and help her live more healthily. She wanted to create sustainable skincare products that were free from dubious ingredients, were both gentle and effective and then share them with others. Skin & Tonic is 100% Organic and certified by COSMOS meaning that every aspect of their production goes through a rigorous audit each year. They are also completely cruelty-free, with all products being tested on themselves and NEVER on animals. So, use Skin & Tonic to find calm in a stressful world with effective skincare.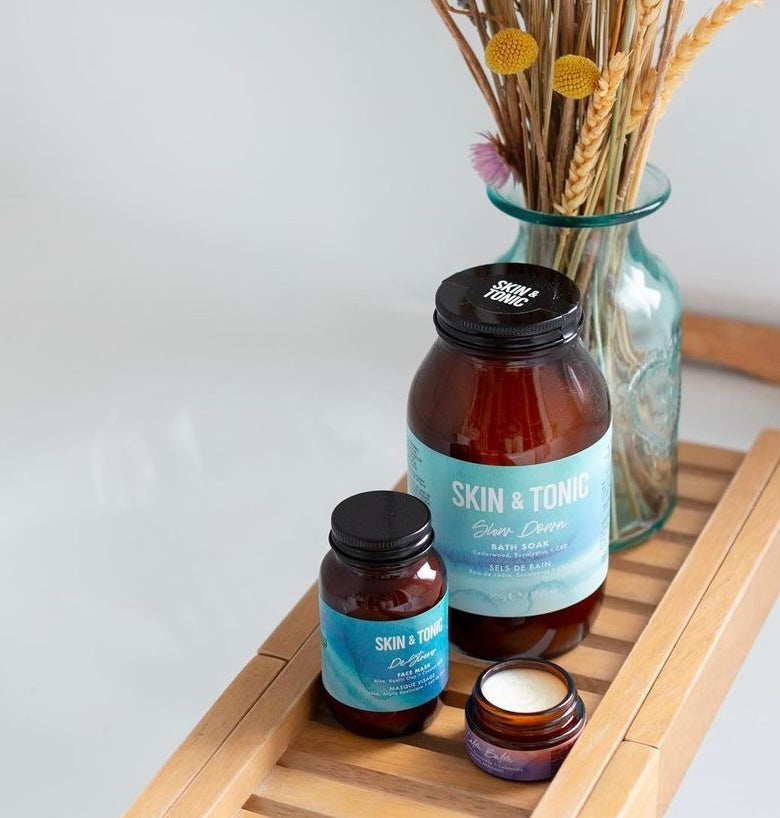 Supporting wellness and selfcare
 For most of us, our busy lives and hectic schedules means self-care is squeezing in that five-minute skincare ritual that makes you feel all glowy and fresh-faced. Sometimes it's taking a moment to breathe in a soothing scent when you feel overwhelmed. It can be sinking into a comforting bath with a face mask. Or some days it's just remembering to take off your make-up at the end of a busy day. Skin & Tonic helps you live a soothing and calming lifestyle whilst still taking care of your skin.