This store requires javascript to be enabled for some features to work correctly.
Get clean, calm and beautifully balanced skin with this butter-soft cleansing balm and organic cotton hot cloth. As you breathe in the heavenly scent of jasmine, blue chamomile and lavender, Calm Clean effortlessly melts away make-up and impurities. The calming essential oils soothe your skin and your senses, while carrot root oil nourishes your skin with antioxidants and essential vitamins.
Made with just 8 natural ingredients
Cruelty Free
Certified Organic by COSMOS
Palm Oil Free
Free From Parabens
100% Natural, 99% Organic
Gluten Free
Suitable for all skin types
50g
Product Information
Description

The Skin & Tonic cleansing balm cleanses and replenishes the skin with Carrot, Blue Chamomile and Jasmine Sambac. It firms, tones and improves the skin's elasticity whilst also protecting the skin from environmental stressors . The cleansing balm deeply moisturises the skin whilst gently lifting away make up and impurities. The balm soothes inflammation, redness and irritation making it perfect for any skin type, especially those that needs some extra love. The nourishing formula helps calm the mind and promote relaxation.

Key ingredients:

Carrot Root Oil

Full of antioxidants including carotene and Vitamin A, this helps to moisturise dry skin as well as firming and toning.

Jasmine Sambac Oil

From the night blooming variety of jasmine - a healing, uplifting oil that increases the skin's elasticity and moisture levels whilst helping the mind to unwind.

Blue Chamomile Oil

Naturally high in chamazulene - a powerful anti-inflammatory that works to reduce and soothe redness and irritation. This also gives our Calm Clean its green/blue colour (which varies slightly depending on the batch of natural ingredients).

Lavender

This calming essential oil has anti-inflammatory properties to soothe and heal, whilst helping the mind to relax.
Ingredients

Vitis Vinifera (Grape) Seed Oil*Cera Alba (Beeswax)*Helianthus Annuus (Sunflower) Seed Oil*Daucus Carota Sativa (Carrot) Root Extract*Lavandula Augustifolia (Lavender) Flower Oil*Jasminum Sambac (Jasmine) Flower ExtractChamomilla Recucita (Blue Chamomile) Flower Oil*TocopherolAllergens:Limonene, Geraniol, Linalol

 

*Organically produced ingredient.
How to use

Massage a pea-sized amount into dry skin using slow circular motions.

For a hot cloth cleanse, soak the organic cotton cloth in warm water and place over your face for one minute.

Take deep, slow breaths and let the aromatherapy blend relax you. Gently wash away any residue with the cloth, rinse and pat your skin dry.

You can also use a small amount of Calm Clean as a balm for dry skin or lips. Use AM and/or PM.
Skin & Tonic create effective, organic, sustainable skincare and selfcare that fits effortlessly into your busy, beautiful, chaotic and very real life.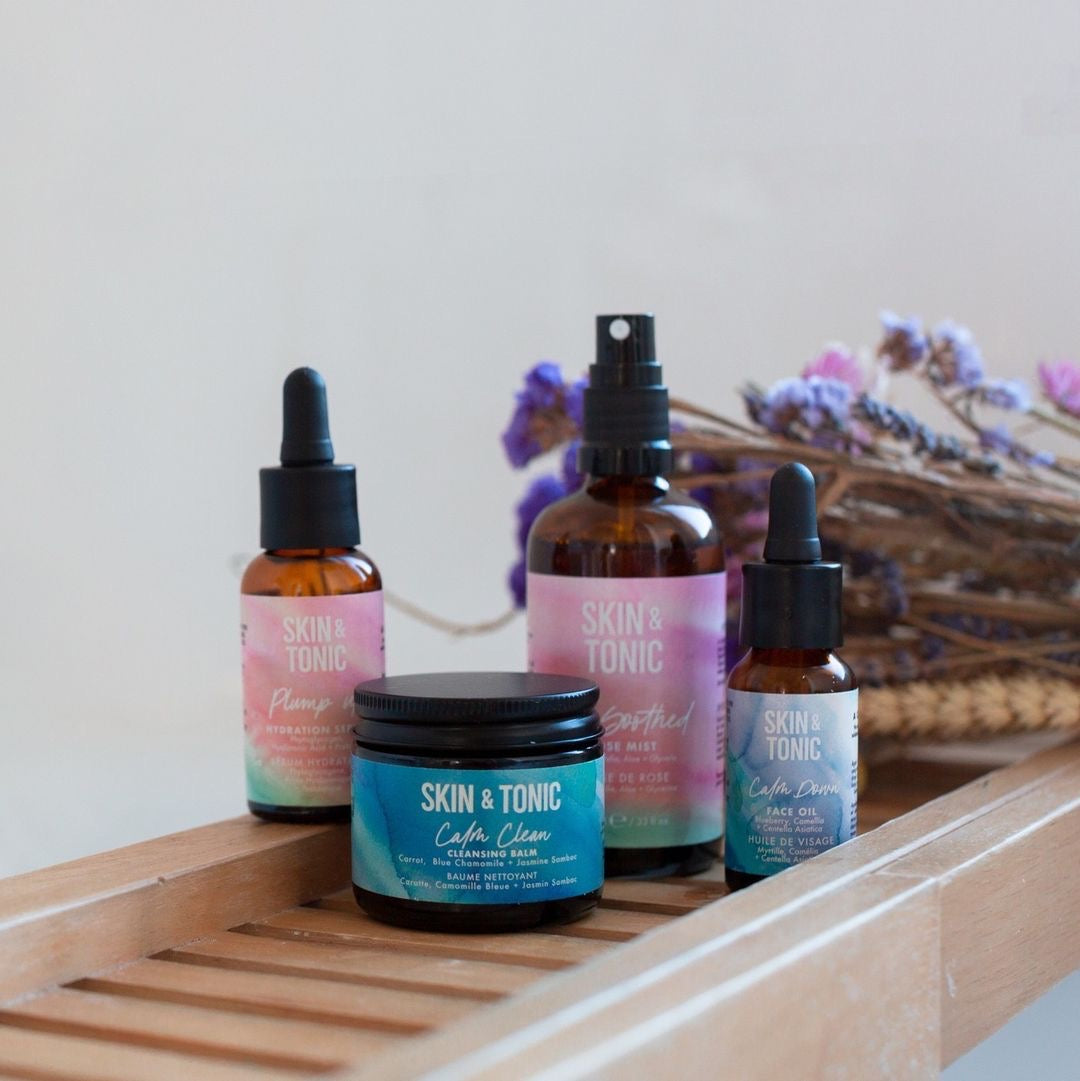 So what makes Skin & Tonic so special?
Skin & Tonic was created to help founder Sarah reduce some of the stresses in her life and help her live more healthily. She wanted to create sustainable skincare products that were free from dubious ingredients, were both gentle and effective and then share them with others. Skin & Tonic is 100% Organic and certified by COSMOS meaning that every aspect of their production goes through a rigorous audit each year. They are also completely cruelty-free, with all products being tested on themselves and NEVER on animals. So, use Skin & Tonic to find calm in a stressful world with effective skincare.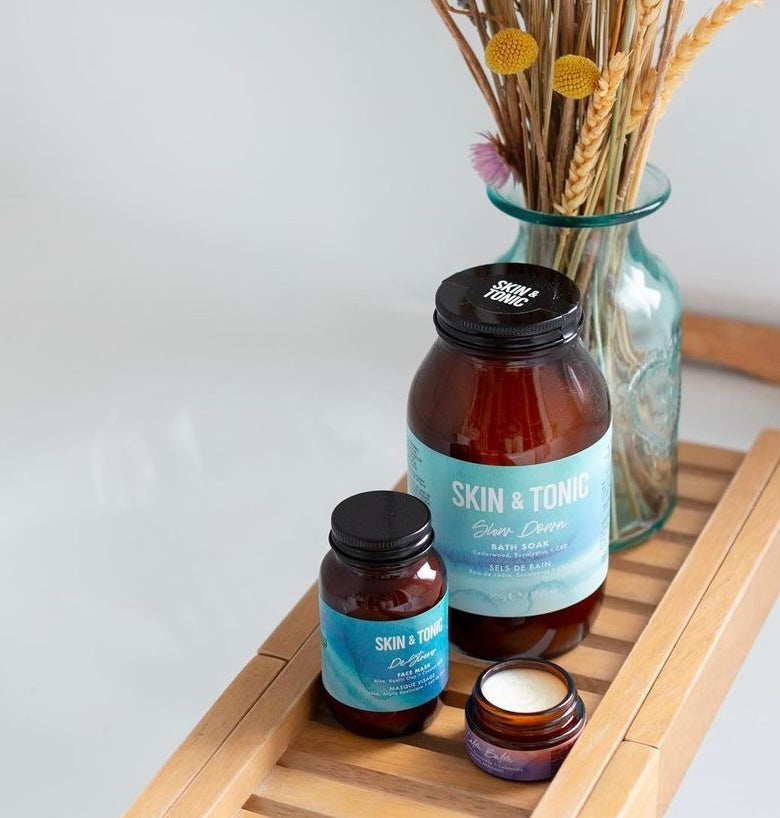 Supporting wellness and selfcare
 For most of us, our busy lives and hectic schedules means self-care is squeezing in that five-minute skincare ritual that makes you feel all glowy and fresh-faced. Sometimes it's taking a moment to breathe in a soothing scent when you feel overwhelmed. It can be sinking into a comforting bath with a face mask. Or some days it's just remembering to take off your make-up at the end of a busy day. Skin & Tonic helps you live a soothing and calming lifestyle whilst still taking care of your skin.