This store requires javascript to be enabled for some features to work correctly.
Spritz away your stresses with this feel-good floral toner and mist which combines Rose Centifolia, Aloe and Glycerin. Made from organic roses grown in the crisp, clean air of the French Alps, Be Soothed Rose Mist instantly lifts your spirits with its soft, mood-enhancing scent. The super-hydrating blend of rose water, aloe and glycerin perks up your skin too, leaving you looking as refreshed as you feel.
Made with just 5 ingredients
Vegan & Cruelty Free
Certified Organic by COSMOS
Palm Oil Free
Free From Parabens
100% Natural, 96% Organic
Gluten Free
Suitable for all skin types
100ml
Product Information
Description

Skin & Tonic's Be Soothed Rose Mist is perfect for when you need to hydrate, cool down, soothe your skin or help balance your mood. The natural facial spray can be used as a spritz, skin toner or make-up setting spray. The gentle formula tones, hydrates and balances your skin. The formula soothes redness and irritation whilst providing moisture to your skin for a bright, dewy complexion. The beautiful fragrance naturally lifts your mood and calms your senses. Use to cool and calm when you're feeling hot and flustered.

Key ingredients:

Rose Centifolia Flower Water

Distilled from organic rose petals. The soothing rose water is hydrating, astringent and excellent for reducing redness and inflammation.

Glycerin

A powerful natural humectant which works to draw moisture from the air to your skin.

Aloe Vera Powder

A powerful adaptogen, Aloe Vera is a light, hydrating and healing ingredient. Aloe contains natural salicylic acid which is great for the prevention and treatment of blemishes.
Ingredients

Rose Centifolia (Rose) Floral Water*Leuconostoc/ Radish Root Ferment FiltrateAquaAloe Barbadensis (Aloe) Leaf Juice Powder*Glycerin**

 

*Organically produced ingredient. **From organic origin.
How to use

Here are just a few of our favourite ways to use it:

Spray onto a cotton pad and sweep across the face to tone your skin.Close your eyes and spritz lightly over your face to set your make-up.Spray on and around yourself when you're feeling hot, flustered or flushed.Mist lightly over your bed linen to help you drift off to sleep.Spray liberally in your meditation or yoga space to support your practice.TOP TIP: Keep a bottle in the fridge for an extra-cool spritz.
Skin & Tonic create effective, organic, sustainable skincare and selfcare that fits effortlessly into your busy, beautiful, chaotic and very real life.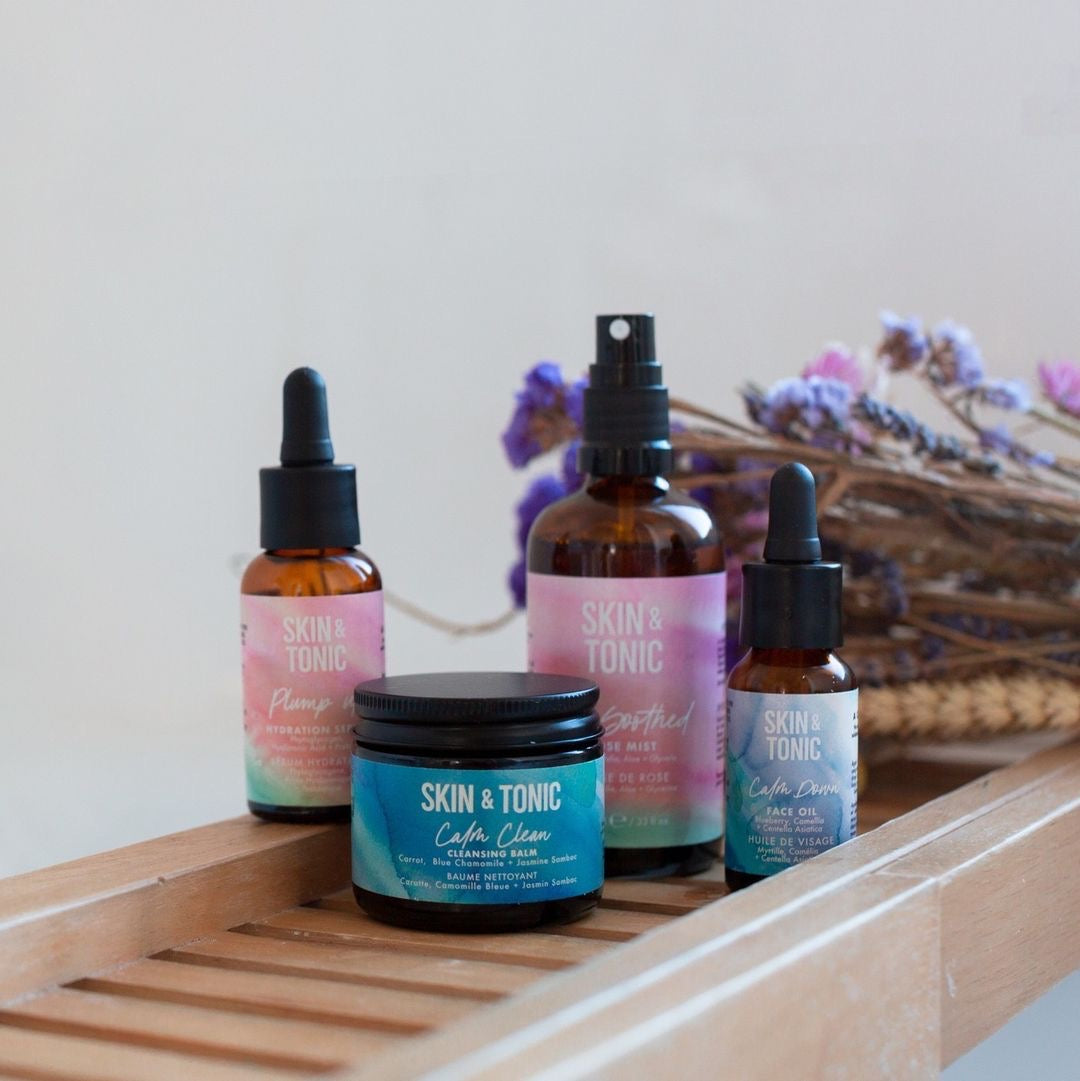 So what makes Skin & Tonic so special?
Skin & Tonic was created to help founder Sarah reduce some of the stresses in her life and help her live more healthily. She wanted to create sustainable skincare products that were free from dubious ingredients, were both gentle and effective and then share them with others. Skin & Tonic is 100% Organic and certified by COSMOS meaning that every aspect of their production goes through a rigorous audit each year. They are also completely cruelty-free, with all products being tested on themselves and NEVER on animals. So, use Skin & Tonic to find calm in a stressful world with effective skincare.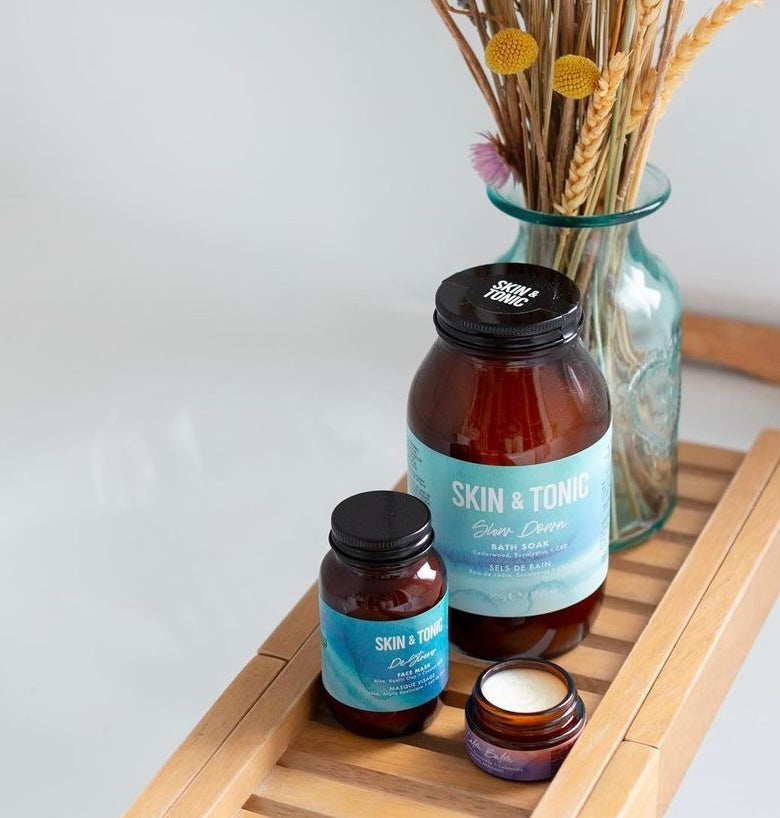 Supporting wellness and selfcare
 For most of us, our busy lives and hectic schedules means self-care is squeezing in that five-minute skincare ritual that makes you feel all glowy and fresh-faced. Sometimes it's taking a moment to breathe in a soothing scent when you feel overwhelmed. It can be sinking into a comforting bath with a face mask. Or some days it's just remembering to take off your make-up at the end of a busy day. Skin & Tonic helps you live a soothing and calming lifestyle whilst still taking care of your skin.