This store requires javascript to be enabled for some features to work correctly.
Unbalanced, unpredictable, breakout-prone skin? Daily Detox Face Oil is your new skincare superhero! Skin & Tonic's light but mighty oil revives your complexion by fighting oiliness, irritation and breakouts. Antioxidant-rich black cumin seed oil nourishes your skin back to full radiance – and keeps it that way! Blemishes are banished by skin-brightening bergamot, also known for its mood-boosting citrusy scent.
Made with just 6 natural ingredients
Vegan & Cruelty Free
Certified Organic by COSMOS
Palm Oil Free
Free From Parabens
100% Natural, 71% Organic
Gluten Free
Ideal for Oily, Combination or Blemish prone.
20ml
Product Information
Description

Skin & Tonic's Daily Detox Face Oil purifies and balances oily, combination and blemish prone skin with Watermelon, Black Cumin and Bergamot. This facial oil helps calm overactive sebaceous glands and regulates oil production to help prevent breakouts. It soothes and nourishes red, irritated or inflamed skin and helps protect against environmental stressors. The formula supports skin healing to reduce blemishes and evens and brightens your skin tone. The citrusy scent helps relieve stress and promotes a positive mood.

Key ingredients:

Watermelon

Full of vitamins A, B and E as well as magnesium to brighten and tone.

Bergamot Essential Oil

This fresh, fruity oil from Southern Italy refreshes the skin and has cicatrizant properties, which can help to reduce blemishes. Skin & Tonic's bergamot oil is bergaptene-free so it is safe to use in the sun and is a natural mood enhancer- relieving feelings of stress.

Black Cumin Seed Oil

Anti-inflammatory and antioxidant-packed, this protects against environmental aggressors and provides nourishment to skin.
Ingredients

Simmondsia Chinensis (Jojoba) Seed Oil*Cirullus Lanatus (Watermelon) Seed OilNigella Sativa (Black Cumin) Seed Oil*Citrus Aurantium Bergamia (Bergamot) Fruit oil*TocopherolCitrus Aurantium Amara (Petitgrain) Leaf Oil*Allergens:Limonene, Linalol
How to use

Apply after cleansing and using toner or serum. Place 2-3 drops in the palm of your hand and use fingertips to gently massage into skin. Can be used AM and/or PM. Try adding a few drops to our De-Stress Face Mask for an extra detox boost.
Skin & Tonic create effective, organic, sustainable skincare and selfcare that fits effortlessly into your busy, beautiful, chaotic and very real life.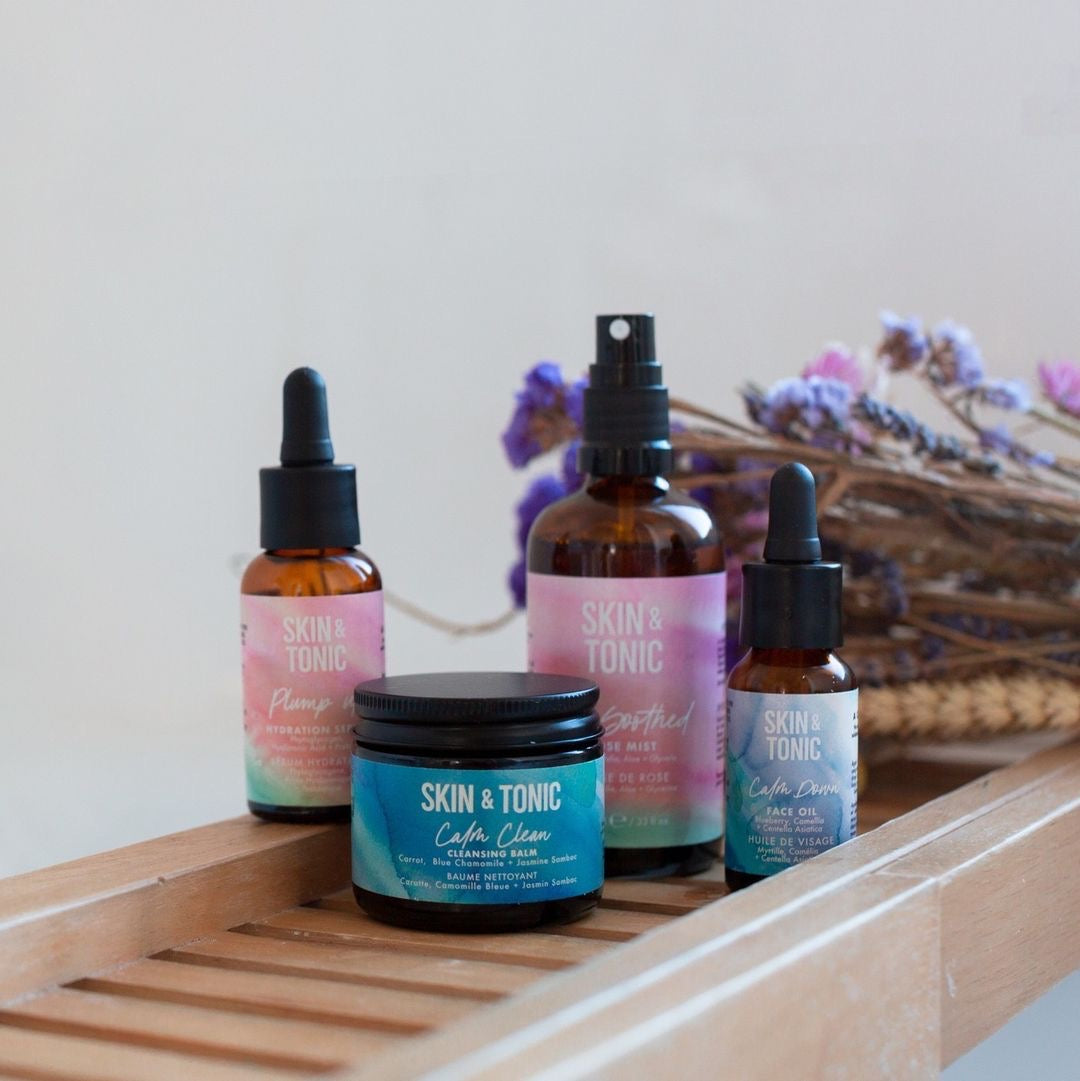 So what makes Skin & Tonic so special?
Skin & Tonic was created to help founder Sarah reduce some of the stresses in her life and help her live more healthily. She wanted to create sustainable skincare products that were free from dubious ingredients, were both gentle and effective and then share them with others. Skin & Tonic is 100% Organic and certified by COSMOS meaning that every aspect of their production goes through a rigorous audit each year. They are also completely cruelty-free, with all products being tested on themselves and NEVER on animals. So, use Skin & Tonic to find calm in a stressful world with effective skincare.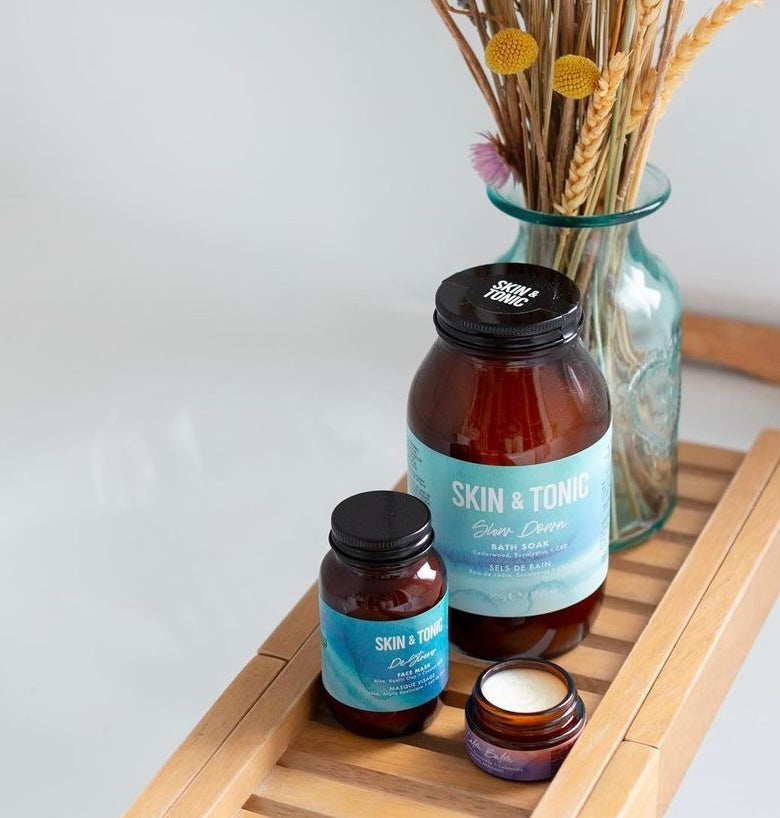 Supporting wellness and selfcare
 For most of us, our busy lives and hectic schedules means self-care is squeezing in that five-minute skincare ritual that makes you feel all glowy and fresh-faced. Sometimes it's taking a moment to breathe in a soothing scent when you feel overwhelmed. It can be sinking into a comforting bath with a face mask. Or some days it's just remembering to take off your make-up at the end of a busy day. Skin & Tonic helps you live a soothing and calming lifestyle whilst still taking care of your skin.