This store requires javascript to be enabled for some features to work correctly.
Purity Natural Beauty Fruit Smoothie Face Scrub is a fruity infusion that helps to rejuvenate skin. This gentle scrub will leave you with a fresh, glowing and radiant complexion. The gentle natural exfoliator helps to remove dead skin cells and give the skin a vitamin C boost.
Vegan & Cruelty Free
Plantable outer packaging – that turns into flowers and plants
Palm Oil Free
Gluten Free (Produced in a factory where gluten products are handled)
Product Information
Description

This fruity kiwi scented face scrub helps to gently remove dead skin cells to leave you skin feeling fresh, glowing and radiant.

Key Ingredients:

Strawberry Extracts

Rich in vitamin C, strawberries can be used to help fight oily skin and to nourish and revitalise your skin. Strawberries are acidic in nature and is used to remove the excess sebum on skin.

AHA Fruit Acids

A concentrated blend of five botanical extracts: bilberry, sugar cane, sugar maple, orange, and lemon. These extracts contain several naturally occurring alpha hydroxy acids that gently exfoliate dead skin cells to leave clear and bright skin.
Ingredients

Aqua, Cetearyl alcohol & Polysorbate 60 (Emulsifying wax NF), Prunus armeniaca (Apricot kernel oil), Potassium oleate, Potassium cocoate, Glycerin, Potassium citrate, Citric acid (Castile), Cocos nucifera (Coconut oil), Helianthus annuus (Sunflower oil), Pumice, Vegetable Glycerin, Coco-Glucoside, Persea gratissima (Avocado oil), Stearic acid, Phenoxyethanol and Ethylhexylglycerin, Xanthan gum, Avena sativa meal extract, Fragaria vesca (Strawberry fruit extract), Pyrus malus, Citrus medica limonum, Vaccinium myrtillus, Saccharum officinarum, Vitis vinifera, Propylene Glycol, Aqua, Lactic acid, Citric acid, Glycolic acid, Malic acid, Tartaric acid, Parfum, Benzyl salicylate, Citronellol, Hexyl cinnamal, Linalool
Packaging

Glass and Aluminium Jar – Contains EPE liner (The EPE Liners have a low density foam core sandwiched between two levels of polyethylene.

This is easily recycled into new objects like EPE foam insulation.)

Plantable outer packaging. Plant in soil and packaging composts away, sprouting into flowers and plants

30ml Jar
Why We Love Purity Natural Beauty
Best known for their innovative seed embedded plantable packaging, and planet friendly beauty products.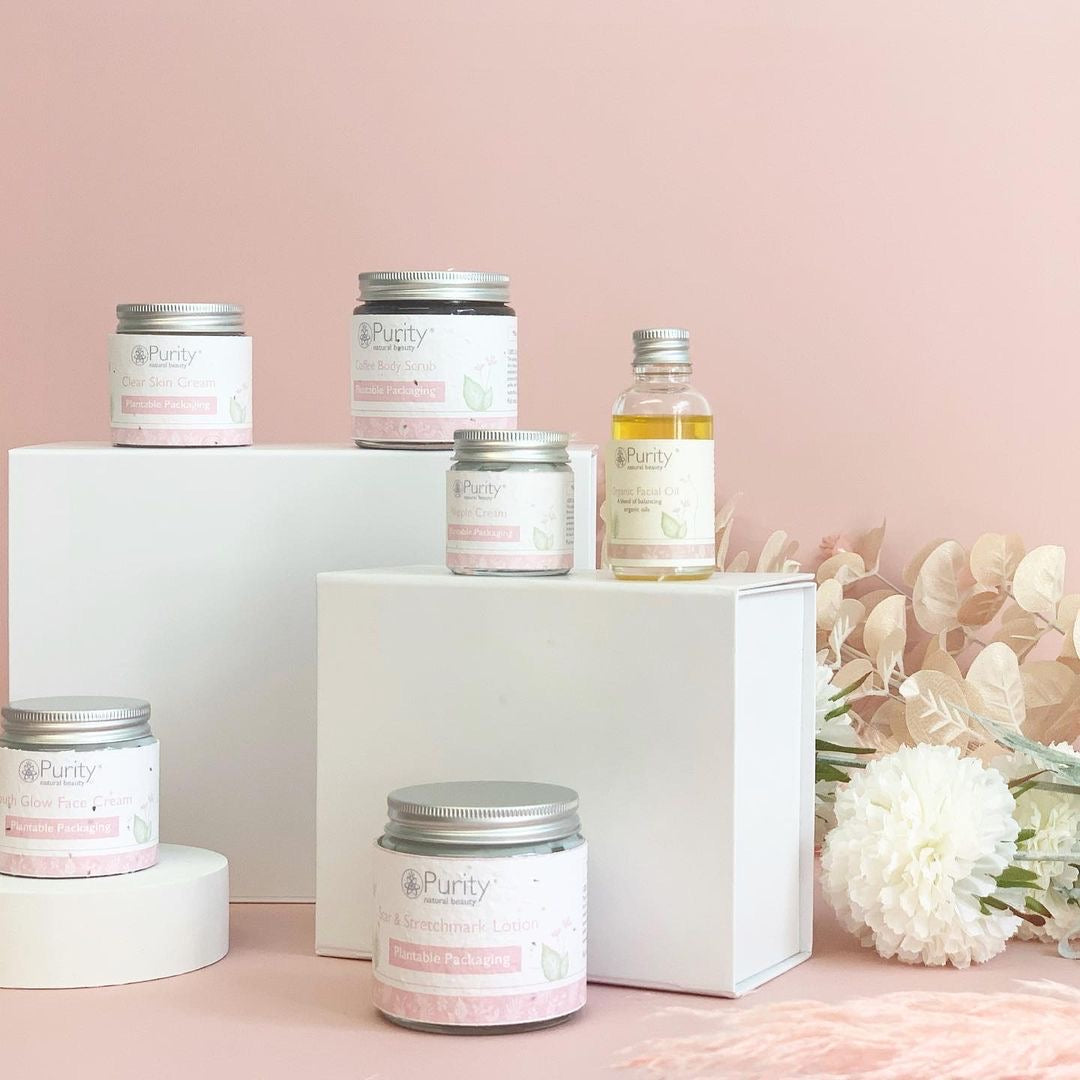 So what makes Purity Natural Beauty different?
Purity Natural Beauty is a natural, ethical, eco-friendly, and sustainable skincare and beauty brand. Their range of products combines the latest in cosmetic technology with natural plant and food ingredients to create natural and effective products. Their mission is to create healthy connections between humans and nature and raise awareness for current environmental issues and it's impact on the planet. They believe encouraging and offering consumers eco-friendly and sustainable cosmetic choices will help to ultimately clean up the cosmetic world, preserving the planet and our human health.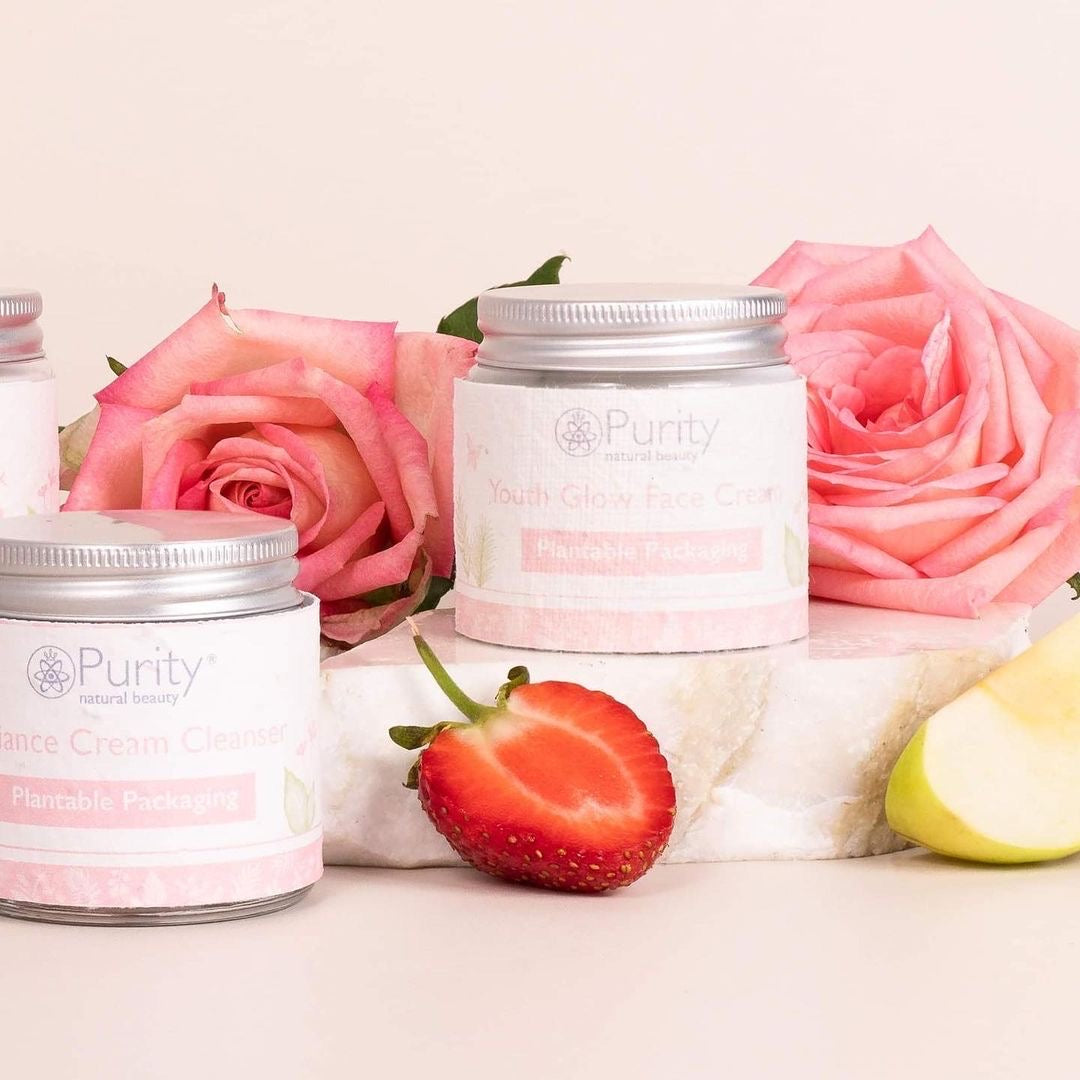 Natural ingredients, eco-friendly packaging.
All the products are free form parabens, sulphates, palm oil, mineral oils, fillers, petrochemicals and animal-derived ingredients. Their products are packaged in glass and aluminum jars with plantable outer packaging. The plantable outer packaging is embedded with wildflower seeds, which once planted grow into flowers and plants to help bees and insects which are essential to our eco-system.