This store requires javascript to be enabled for some features to work correctly.
An intensive plant based face cream that blends powerful anti-aging extracts which tighten and plump the skin, with active ingredients to create a flawless and youthful looking complexion.  The magical formula contains nourishing superfoods rich in antioxidants, vitamins, and essential omega fatty acids, that reverse signs of ageing caused by UV Rays, help fight dark spots, scars and other facial blemishes. The cream has a soothing creamy texture which leaves the skin feeling fresh and rejuvenated after the first application.
Vegan & Cruelty Free
Plastic Free
Plantable outer packaging. Plant in soil and packaging composts away, sprouting into flowers and plants.
50ml
Product Information
Description

The youth glow face cream combines potent plant extracts. Key ingredients include;

Hibiscus Flower Extract - Also known as the 'Botox' plant, Hibiscus has a magical reputation for increasing skin elasticity to give a stunning natural youth-boost. With the incredible ability to inhibit the activity of the enzyme elastase, which is responsible for breaking down our skin's precious elastin, Hibiscus actively combats the ageing process by firming and lifting your skin.

Gotu Kola - a miracle herb that heals scars, blemishes, spots and other skin conditions, because of its brilliant properties that increase the blood supply and anti-oxidant levels to the affected area. The rise in antioxidant levels promotes the production of fibroblasts, which help in synthesizing collagen to diminishes the dark spots, blemishes and scars that appear on the skin.
Ingredients

Aqua, Prunus armeniaca, Cetearyl alcohol & Polysorbate 60, Helianthus annuus, Vegetable glycerin, Olea europaea, Cocos nucifera, Butyrospermum parkii, Phenoxyethanol & Ethylhexylglycerin, Stearic acid, Zinc oxide, Allantoin, Avena sativa extract, α-Tocopherol, Sodium hyaluronate, Xanthan gum, Oryza sativa, Hydrocotyl centella asiatica, Pyrus malus, Vitis vinifera, Hibiscus sabdariffa, Benzyl benzoate, Butylphenyl methylpropional, Citronellol, Eugenol, Farnesol, Geraniol, Hydroxycitronellal, Hydroxyisohexyl 3-cyclohexene carboxaldehyde, Limonene, Linalool
Packaging

Glass and Aluminium Jar – Contains EPE liner

Plantable outer packaging. Plant in soil and packaging composts away, sprouting into flowers and plants

50ml Jar
Why We Love Purity Natural Beauty
Best known for their innovative seed embedded plantable packaging, and planet friendly beauty products.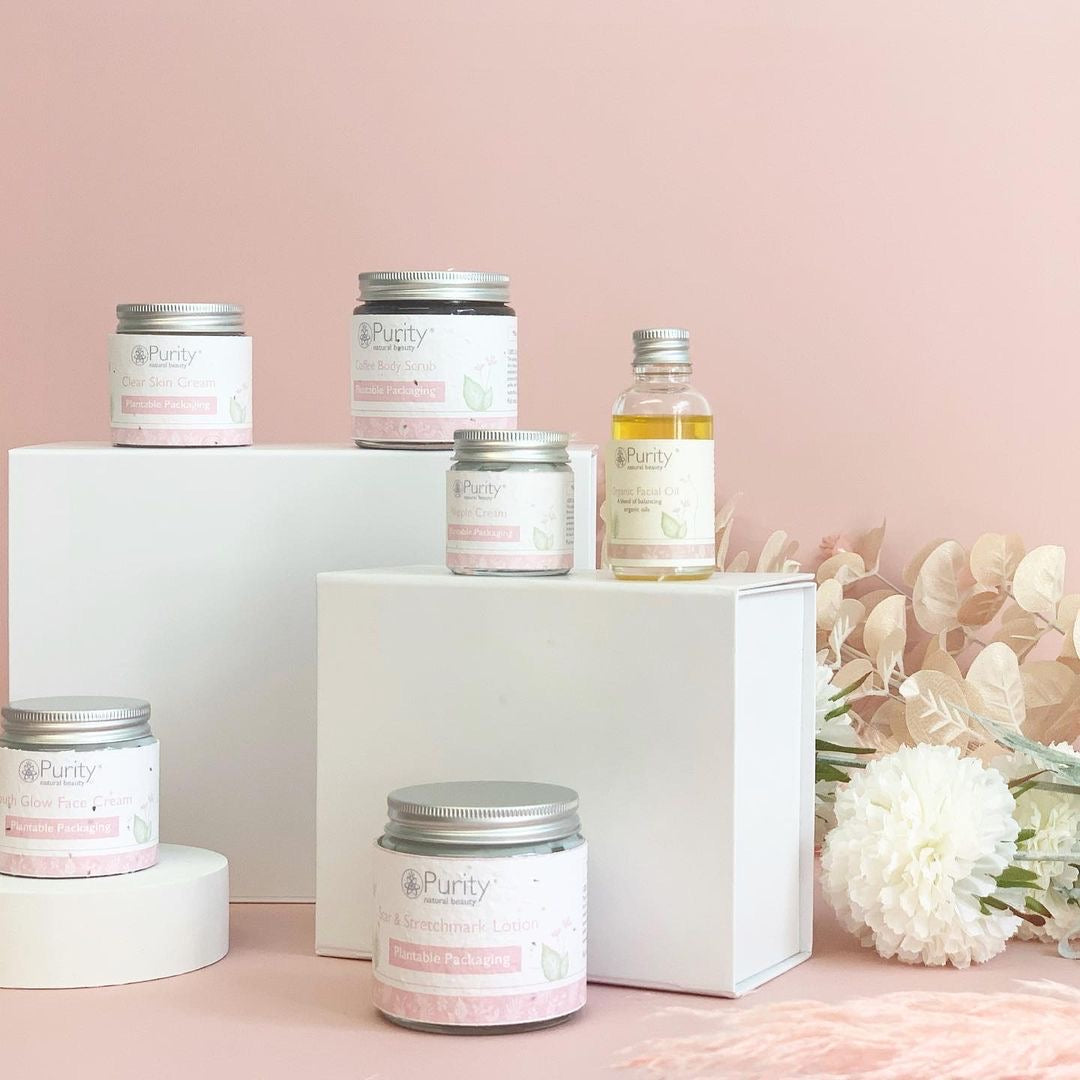 So what makes Purity Natural Beauty different?
Purity Natural Beauty is a natural, ethical, eco-friendly, and sustainable skincare and beauty brand. Their range of products combines the latest in cosmetic technology with natural plant and food ingredients to create natural and effective products. Their mission is to create healthy connections between humans and nature and raise awareness for current environmental issues and it's impact on the planet. They believe encouraging and offering consumers eco-friendly and sustainable cosmetic choices will help to ultimately clean up the cosmetic world, preserving the planet and our human health.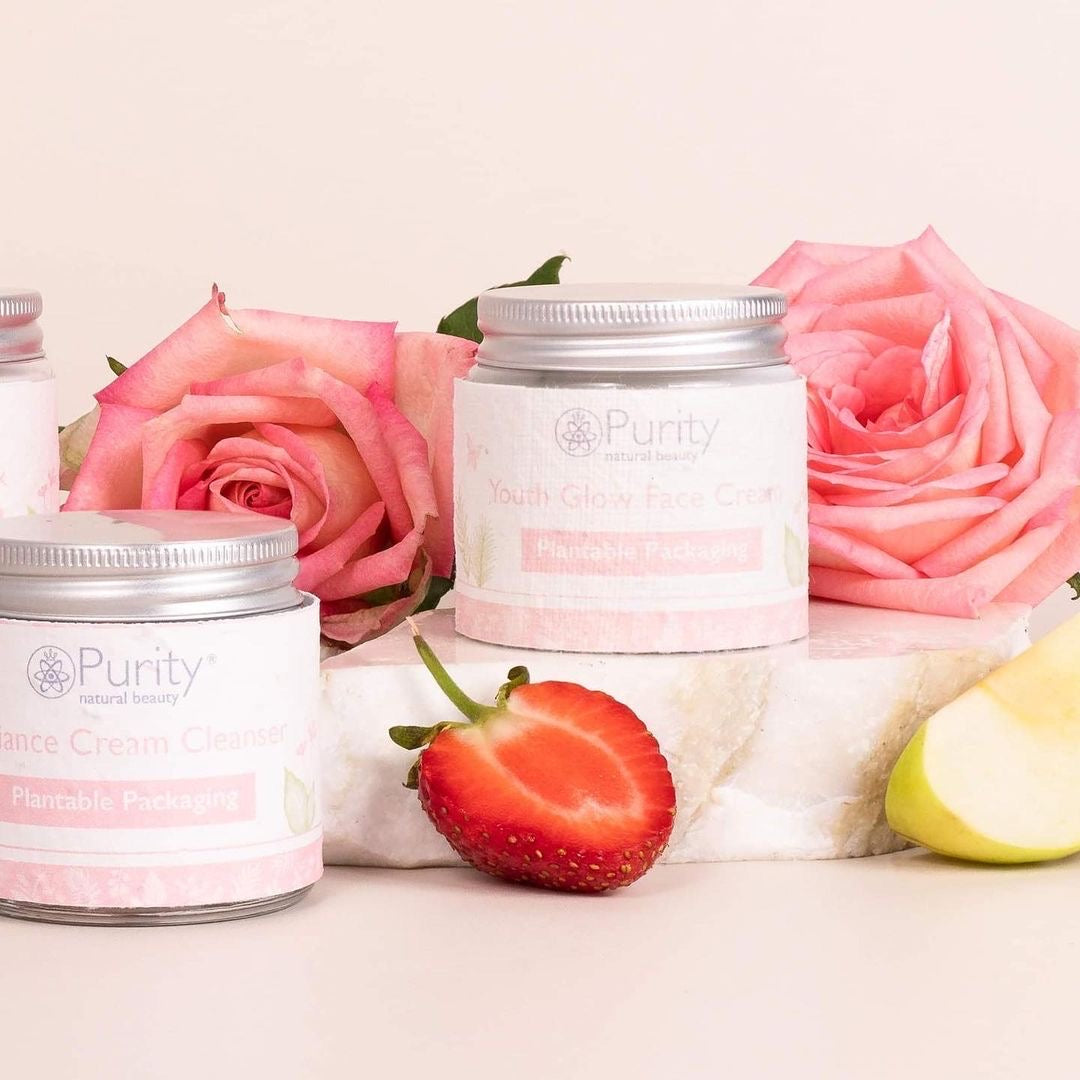 Natural ingredients, eco-friendly packaging.
All the products are free form parabens, sulphates, palm oil, mineral oils, fillers, petrochemicals and animal-derived ingredients. Their products are packaged in glass and aluminum jars with plantable outer packaging. The plantable outer packaging is embedded with wildflower seeds, which once planted grow into flowers and plants to help bees and insects which are essential to our eco-system.