This store requires javascript to be enabled for some features to work correctly.
This energising eye gel will help reduce the look of fatigue and also help minimise puffiness around your eye. This gel will help hydrate and re-energise the skin around your eye whilst also gently moisturising, refreshing and soothing the skin.
Vegan & Cruelty Free
Plantable outer packaging – that turns into flowers and plants
Palm Oil Free
Gluten Free (Produced in a factory where gluten products are handled)
Product Information
Description

Purity for Men Energising Eye Gel is a soothing gel that will re-energise the skin around your eye area. This fast acting gel immediately brightens and hydrates the skin below your eye. It helps reduce the look of fatigued and it will help awaken your senses.

Key Ingredients:

Hyaluronic Acid -

A naturally occurring acid produced by the body that keeps skin hydrated and moisturise. With added amounts will alleviate dry skin and reduces ageing.

Green Tea Extract -

Naturally rich in caffeine and antioxidants that protect skin from free radicals, enhancing the tone and healthy look of the skin. This can help decrease signs of ageing and help the skin look younger.

Coffee Oil -

Extracted from pure coffee beans with a high concentration of sterols and Vitamin E. The antioxidants found in coffee oil help offer protection against skin damage, as well as anti-inflammatory benefits.

Vitamin C Extract -

A potent antioxidant that neutralise free radicals and aids your skin re-generation process, helping to reduce the dark shadows around your eye.

Aloe Vera -

Contains enzymes and antioxidants such as Vitamin A and C, with anti-inflammatory properties that moisture and heal damaged skin, as well as reducing signs of ageing.

Almond Oil -

A range of naturally occurring fatty acids and Vitamins A and E that protect your skin around the eye area from UV rays and retains moisture, leaving skin looking soft, smooth and young.
Ingredients

Aqua, Vegetable glycerin, Phenoxyethanol & Ethylhexylglycerin, Carbomer, Aloe barbadensis leaf powder (Aloe vera), Polysorbate 20, Sodium hydroxide, Prunus amygdalus dulcis (Almond oil), Rubus Idaeus Fruit Extract (Raspberry extract), Sodium hyaluronate (Hyaluronic Acid), Green Tea Extract, Green Coffee Oil, Vitamin C
How to use

Get a small amount of gel on your finger tip and gently dab (not rub) under the eye-area until skin fully absorbs. Apply each morning, or as required to rehydrate and energise your eyes throughout the day.
Packaging

Glass and Aluminium Jar – Contains EPE liner (The EPE Liners have a low density foam core sandwiched between two levels of polyethylene.

This is easily recycled into new objects like EPE foam insulation.)

Plantable outer packaging. Plant in soil and packaging composts away, sprouting into flowers and plants 30ml Jar
Why We Love Purity Natural Beauty
Best known for their innovative seed embedded plantable packaging, and planet friendly beauty products.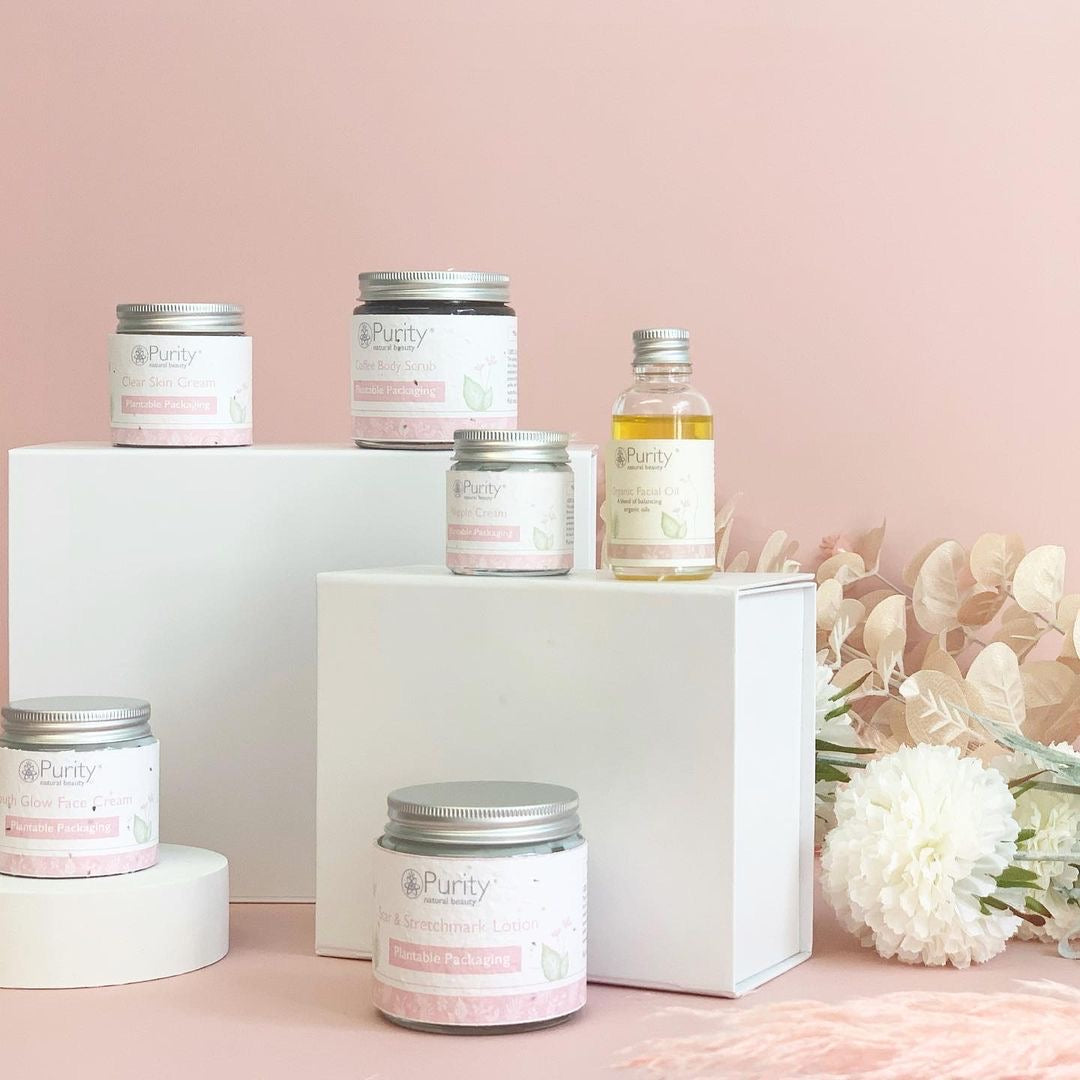 So what makes Purity Natural Beauty different?
Purity Natural Beauty is a natural, ethical, eco-friendly, and sustainable skincare and beauty brand. Their range of products combines the latest in cosmetic technology with natural plant and food ingredients to create natural and effective products. Their mission is to create healthy connections between humans and nature and raise awareness for current environmental issues and it's impact on the planet. They believe encouraging and offering consumers eco-friendly and sustainable cosmetic choices will help to ultimately clean up the cosmetic world, preserving the planet and our human health.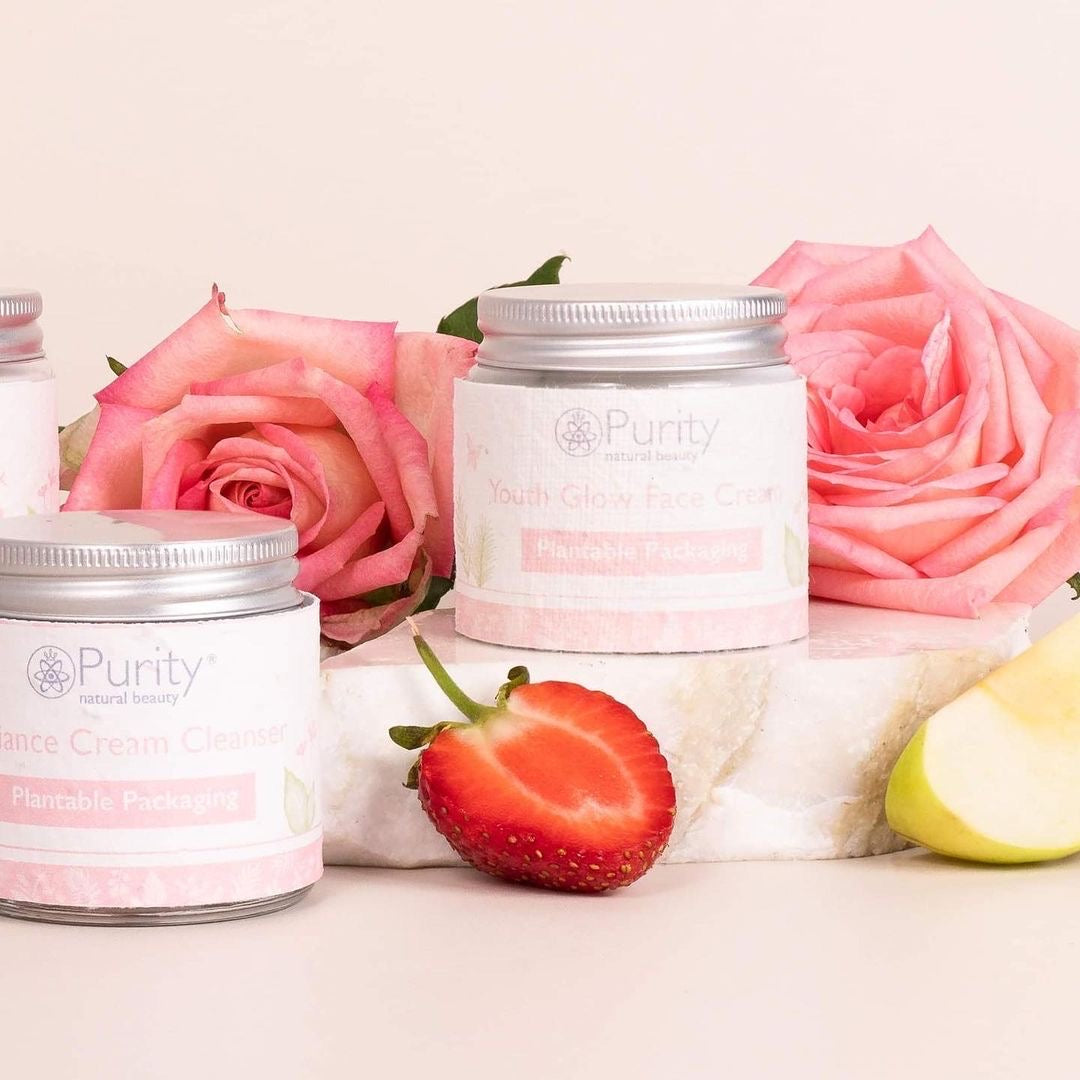 Natural ingredients, eco-friendly packaging.
All the products are free form parabens, sulphates, palm oil, mineral oils, fillers, petrochemicals and animal-derived ingredients. Their products are packaged in glass and aluminum jars with plantable outer packaging. The plantable outer packaging is embedded with wildflower seeds, which once planted grow into flowers and plants to help bees and insects which are essential to our eco-system.