This store requires javascript to be enabled for some features to work correctly.
Lyonsleaf Zinc and Calendula Cream contains the same amount of calming Calendula as our original Calendula Cream and our Calendula and Marshmallow Balm. It also contains Zinc Oxide (found in calamine lotion), it is unfragranced and is a nut oil free formulation (although it may contain nut oil traces). Zinc oxide is rumoured to reduce excess sebum production (be aware some people find it drying)
It also forms a breathable, protective and moisture repellent barrier (be warned! - it's so good it wont easily wash off of clothes or cloth nappies).
Skin prone to perioral dermatitis, acne and rosacea
Skin prone to break outs
Skin prone to nappy rash
Skin affected by insect bites, nettle rash etc
Any skin in need of TLC
Any skin that needs protecting from moisture damage.
30ml
Product Information
Description

Soothes, calms and repels moisture

Made with pure plant oils, beeswax, mineral ingredients (zinc), home grown herbs and nothing else.
Key ingredients: Calendula, Zinc Oxide, Babassu Oil, Beeswax, Borage Oil. 95% organic / wild harvest / mineral

Calms and hydrates irritated skin

Rebalances skin that is prone to produce excess sebum

Creates a barrier to protect skin from moisture damage.

Unfragranced, suitable for infants and those with very sensitive skin.

Note - this is not a sterile product and it contains no antimicrobial preservatives. Caution should be exercised around broken skin especially if the immune system is compromised. it should not be used on broken skin of infants under 3 years.

PART OF THE LYONSLEAF WATERLESS SKINCARE REVOLUTION
No nasties - 100% Natural - water free means no need for preservatives or emulsifiers. Undiluted goodness - made with 100% active ingredients. Concentrated formulas mean smaller pots that use less packaging and resources.

Lyonsleaf products are cruelty free and hand made in the UK, by workers earning a living wage, using ethically sourced ingredients and as little plastic as possible.
Ingredients

helianthus annuus [sunflower] oil** • orbignya oleifera [babassu] oil** • CI77947 - [zinc oxide - non nano] (18%)** • cera alba [beeswax]** • borago officinalis [borage] oil • tocopherol [natural vitamin E oil - gluten free] • calendula officinalis [calendula flower] extract**, althaea officinalis [marshmallow root extract**].

**Organic/wild harvest

99% organic/wild harvest/mineral.
Features

100% natural and gentle

Contains a potent dose of our home-grown calendula

Contains 18% non-nano zinc oxide Suitable for oily skin

Suitable for teenage skin

Creates a barrier to protect skin from moisture damage.

Unfragranced, gentle and suitable for infants

Perfect for baby's bottomsSuitable for tired-looking eyes

Can be used as a barrier cream when washing up, cleaning or hairdressing etc

Can be used as a hairline barrier when dying hair

Cooling and soothinggreat for all sorts of family skincare emergencies

Loved by people who sometimes don't love their skin.
Hand make their award-winning range of 100% natural skincare using organically certified herbs grown on their farm in Somerset.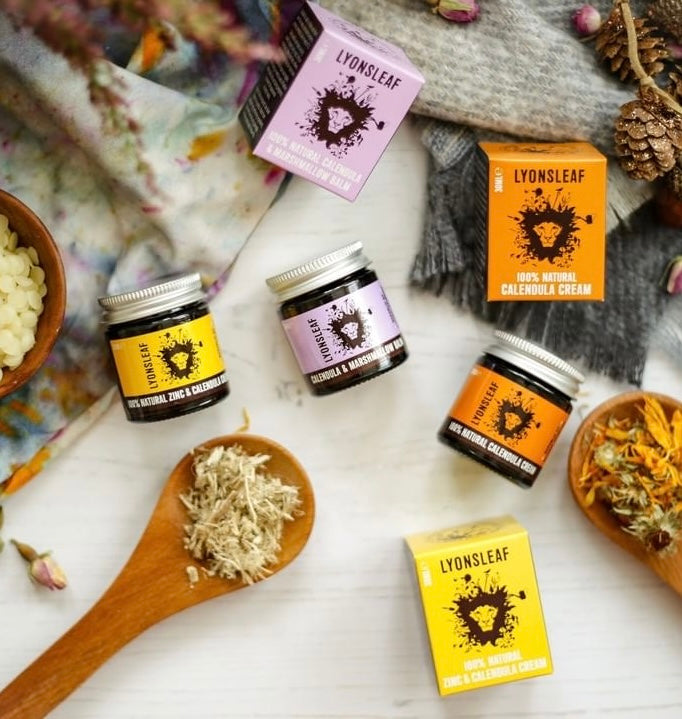 So what makes Lyonsleaf so different?
The 100% natural formula's of Lyonsleaf's range is why they are a popular choice for those who choose to eliminate artificial chemicals from their skincare routine and for ingredient savvy, skincare shoppers.
Lyonsleaf recipes are waterless, this enables the formulas to be free from preservatives and emulsifiers. This also means they undiluted the good stuff, the products come in much smaller jars reducing use of packaging and resources. They last for ages, you need use only sparingly, and they glide on and absorb beautifully.