This store requires javascript to be enabled for some features to work correctly.
Lyonsleaf have sourced this wonderful 100% natural soap made in the UK using Lyonsleaf home-grown certified organic calendula flowers. It was originally formulated as a baby soap and is suitable for those with dry or reactive skin. It is unscented, however it has a very pleasant smell and a luxurious silky lather. Calendula is naturally soothing and this soap is suitable for all skin types, dry, oily, teenage, baby, reactive.
Cruelty Free & Vegan
100% Natural
Palm Oil Free
Fragrance Free
Free from artificial chemicals
Handmade in the UK
Suitable for All Skin Types
100g Bar
Product Information
Description

The Lyonsleaf Calendula soap is a 100% natural handmade soap which gently cleanses, whilst hydrating the skin. Formulated with moisturising shea butter, it has excellent emollient properties to help keep skin moisturised. This soap is also Palm Oil free. Despite being free of palm oil, this soap was chosen for it's remarkably silky lather and good hardness, which means the bar lasts a long time. Palm oil is used to make soap hard. This soap has a good hardness, but it will dissolve if left in a puddle, so we recommend using a soap dish.
Ingredients

sodium olivate, [saponified olive oil] • aqua [water] • sodium cocoate [saponified coconut oil], • sodium shea butterate [saponified shea butter] • sodium castorate [saponified castor oil] • calendula officinalis [calendula flower extract]
Hand make their award-winning range of 100% natural skincare using organically certified herbs grown on their farm in Somerset.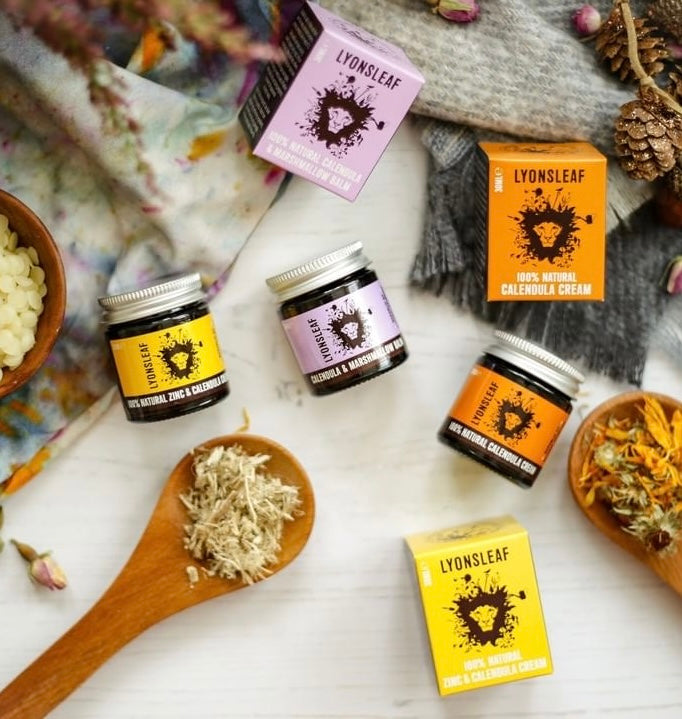 So what makes Lyonsleaf so different?
The 100% natural formula's of Lyonsleaf's range is why they are a popular choice for those who choose to eliminate artificial chemicals from their skincare routine and for ingredient savvy, skincare shoppers.
Lyonsleaf recipes are waterless, this enables the formulas to be free from preservatives and emulsifiers. This also means they undiluted the good stuff, the products come in much smaller jars reducing use of packaging and resources. They last for ages, you need use only sparingly, and they glide on and absorb beautifully.