This store requires javascript to be enabled for some features to work correctly.
Natural Beauty Balm – Oil Cleansing Balm & Moisturiser in one
Discover the amazing 'oil cleansing method'. Simply stop stripping skin's natural oils when cleansing to maintain a good skin barrier. Good skin barrier seals in moisture for glowing skin that stays hydrated and plumped all day, consequently reducing the appearance of lines and wrinkles caused by dry skin.
You may be surprised that many customers with oily skin report that they also love oil cleansing with Lyonsleaf Beauty Balm and that it keeps their skin perfectly balanced avoiding oily shine. Traditional products for oily skin strip the skins natural oils in an attempt to try and reduce excess sebum, but it's now known that this can damage the skin barrier, disrupt the microbiome and PH level of the skin and even cause the skin to overcompensate producing more sebum. 
ONE PRODUCT IS ALL YOU NEED – USE TO:
• Cleanse (Oil Cleansing Method)
• Exfoliate (Oil Cleansing Method)
• Moisturise
• Prime
• Nourish
• Repair
• Protect
• Rebalance sebum production to improve oily skin and reduce oily shine
• Dramatically improve hydration and reduce the appearance of wrinkles caused by dry skin
Vegan & Cruelty Free
 Preservatives (Parabens, Phenoxyethanol, MI, etc)
Emulsifiers or solubilisers (that damage skin barrier)
 Artificial colour
 Artificial fragrance
 All artificial chemicals
30ml
Product Information
Description

Suitable for all skin types including sensitive and problem skin
• Made from 100% pure, unrefined, undiluted plant oils
• Abundant in vitamins, antioxidants and other phyto-nutrients
• Made with sun-stable oils that do not oxidise
• Halts free-radical damage
• Contains all the fatty acids your skin requires to naturally maintain skin barrier
• Allows skin to regulate itself naturally

Good skin barrier also keeps pathogens out. Pathogens cause spots, fungal or bacterial infections and allergic reactions. (this can happen to oily skin too)

Because Lyonsleaf Beauty Balm is 100% natural, It is suitable for very sensitive skin. Removing harsh ingredients from your skin care routine can settle skin prone to acne, perioral dermatitis, eczema and psoriasis.

Lyonsleaf Beauty Balm is water-free, so it is a super concentrated product. You need only use a tiny amount and will find it glides on, absorbs easily, covers a surprisingly large area and keeps skin hydrated for a very long time. A small pot uses less space, resources and packaging yet goes a remarkably long way.

Lyonsleaf Beauty Balm is an incredibly effective complete facial skincare solution with absolutely no artificial chemicals. A real one pot revolution in natural skincare.

• Preservatives (Parabens, Phenoxyethanol, MI, etc)
• Emulsifiers or solubilisers (that damage skin barrier)
• Artificial colour
• Artificial fragrance
• All artificial chemicals

PART OF THE LYONSLEAF WATERLESS SKINCARE REVOLUTION


Lyonsleaf products are cruelty free and hand made in the UK, by workers earning a living wage. Lyonsleaf packaging is 100% recyclable and Lyonsleaf are committed to an ongoing programme of reducing carbon emissions as far as possible.

No nasties - 100% Natural - water free means no need for preservatives or emulsifiers.Undiluted goodness - made with 100% active ingredients.Concentrated formulas mean smaller pots that use less packaging and resources.
Ingredients

98% organic / wild harvest

Butyrospermum parkii [raw shea butter]**, orbignya oleifera [babassu] oil**  • macadamia ternifolia [macadamia nut] oil** • simmondsia chinensis [jojoba] oil** • Helianthus Annuus [sunflower oil] • tocopherol [natural vitamin E oil - gluten free] • cymbopogon martinii [palmarosa essential oil] • salvia sclarea [clary sage essential oil] • styrax benzoin + alcohol [pourable benzoin resin] • pogostemon cablin [patchouli essential oil] • rosemarinus officinalis [rosemary essential oil]** • calendula officinalis • [calendula flower] extract** • Note: the essential oils naturally contain: citral • geraniol • benzyl benzoate • benzyl cinnamate • farnesol • limonene • linolool

**Organic/wild harvest

We buy organic babassu oil when available, otherwise, it is obtained from wild harvest babassu nuts which naturally fall in the rainforest.

PLEASE NOTE: We have removed almond oil from this product, but other stockists may still hold stock containing almond oil - please check the ingredients on the box when buying elsewhere, should you have an allergy.
How to use

One product is all you need - use to:

Cleanse (oil cleansing method)

Remove make-up including waterproof mascara (oil cleansing method)

Exfoliate (oil cleansing method)

Moisturise

Prime

Nourish

Maintain good skin barrier

Protect
Hand make their award-winning range of 100% natural skincare using organically certified herbs grown on their farm in Somerset.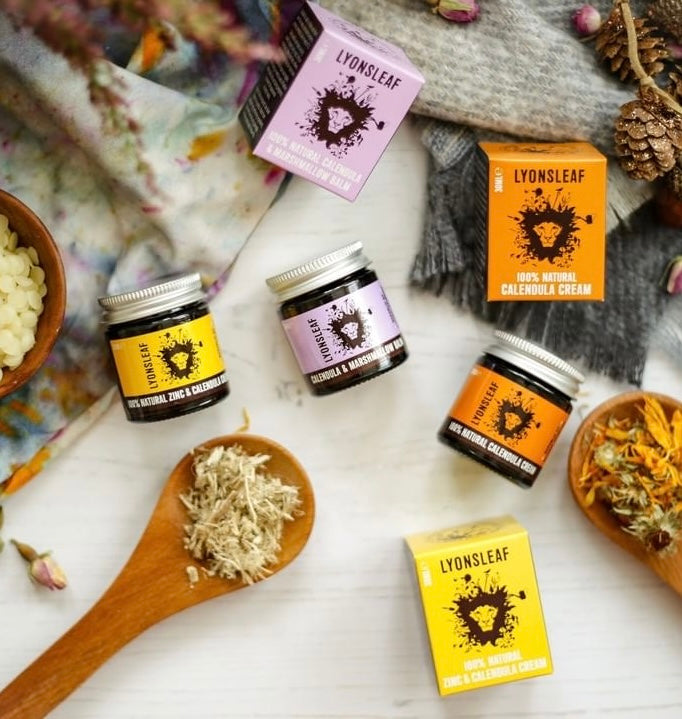 So what makes Lyonsleaf so different?
The 100% natural formula's of Lyonsleaf's range is why they are a popular choice for those who choose to eliminate artificial chemicals from their skincare routine and for ingredient savvy, skincare shoppers.
Lyonsleaf recipes are waterless, this enables the formulas to be free from preservatives and emulsifiers. This also means they undiluted the good stuff, the products come in much smaller jars reducing use of packaging and resources. They last for ages, you need use only sparingly, and they glide on and absorb beautifully.