This store requires javascript to be enabled for some features to work correctly.
Formulated for oily and combination skin, this natural facial exfoliator uses repurposed coffee grounds and a blend of rosemary, thyme, petitgrain and tea tree essential oils to help keep breakouts at bay and gently exfoliate away any dead and dry skin. A powerful antibacterial and antiseptic, rosemary oil helps keep acne, blackheads and whiteheads away whilst thyme has strong antibacterial and antimicrobial properties which help against acne and spots.
Created with repurposed coffee grounds from London cafes
Aluminium tube
Certified organic & 100% natural
Vegan & Cruelty-free
 Sustainable
 Made in the UK
Suitable for Oily, Combination Skin.
100ml
Product Information
Description

UpCircle's herbal blend face scrub will help you buff away dry skin and dead cells to leave your skin feeling smooth, soft and glowing with added tea tree oil to help fight acne, spots and breakouts. Formulated with a base of shea butter and coconut oil, your skin will feel hydrated and moisturised post-scrub. Arabica coffee grounds sourced from artisan coffee shops give this facial exfoliator its texture. Rosemary oil has powerful antibacterial and antiseptic properties which help keep blackheads, whiteheads, acne and balances oily skin. Thyme oil is an excellent and effective natural treatment for acne, it has strong antibacterial and antimicrobial properties which help fight acne, spots and other skin complaints. Rosehip oil is rich in antioxidants and essential fatty acids including linolenic and linoleic acids which help it effectively hydrate dry and itchy skin. Rosehip oil is easily absorbed helping the antioxidants penetrate deep into the skin's layer to provide intensive hydration and moisture.

Featured in the press extensively including The Times, Forbes, Glamour, The Sunday Times, Refinery 29, The Independent, Good Housekeeping and many more.
Ingredients

Coffea Arabica Seed Powder, Sucrose, Butyrospermum Parkii (Shea) Butter, Cocos Nucifera (Coconut) Fruit Oil, Simmondsia Chinensis (Jojoba) Seed Oil, Prunus Armeniaca (Apricot) Kernel Oil, Rosa Canina (Rosehip) Fruit Oil, Citrus Grandis (Grapefruit) Peel Oil, Citrus Nobilis (Mandarin Orange) Peel Oil, Rosmarinus Officinalis (Rosemary) Leaf Oil, Thymus Vulgaris (Thyme) Oil, Melaleuca Alternifolia (Tea Tree) Leaf Oil, Citrus Aurantium Amara (Bitter Orange) Leaf Oil, Benzyl Alcohol, Dehydroacetic Acid, Benzoic Acid, Sorbic Acid, *Limonene, *Linalool. *Natural constituent of essential oils listed.
How to use

Shake scrub vigorously to mix before applying to damp face in circular motions. Leave for a few moments, rinse with warm water and pat dry. This scrub can be used several times per week.
Packaging

This scrub is housed in a 100% aluminium tube with PP cap. Each scrub comes in a cardboard outer. All packaging is 100% recyclable.  
UpCircle are pioneers when it comes to making sustainable, low waste, natural, vegan and cruelty-free skincare. The circular economy sits at the heart of what they do.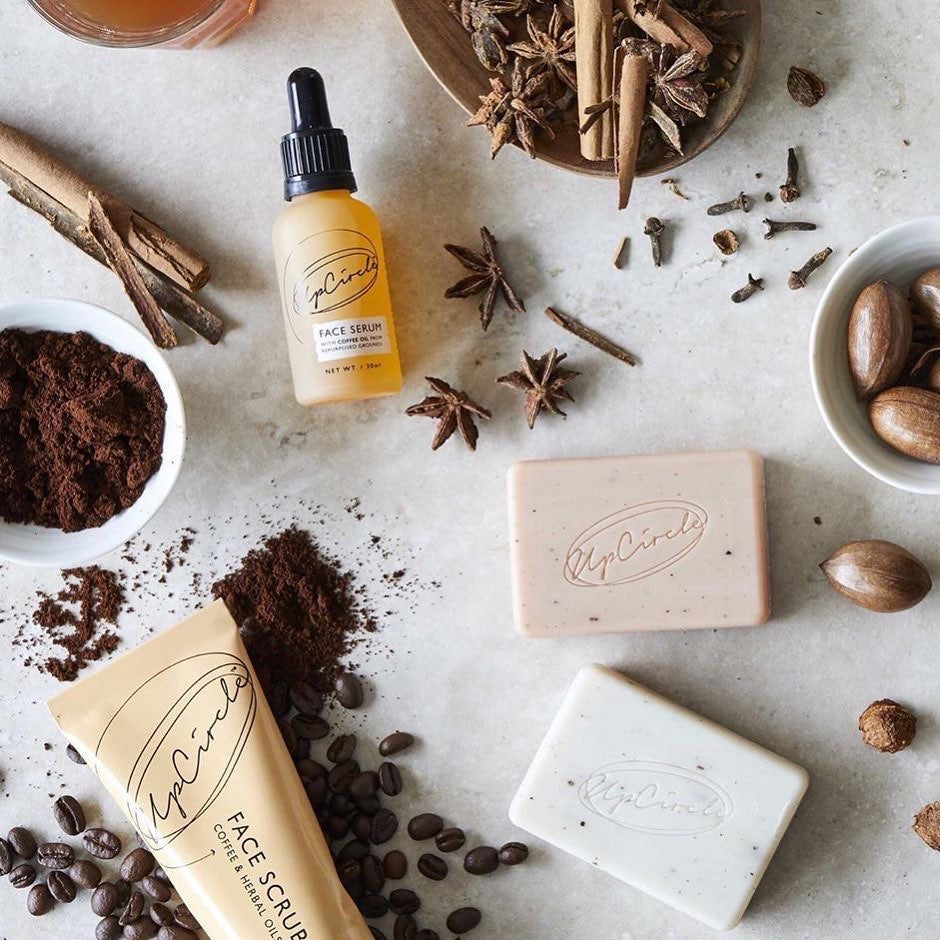 So what makes UpCircle so special?
UpCircle repurpose products that would have normally gone to waste or have been disgarded and transform them into natural and organic ingredients for their range of beauty products.
With this ethos at the heart of everything they do, they have created a range of high performing products from waste ingredients like used coffee grounds, fruit stones and chai spices. This is not only a great way to reduce waste but also the materials that are saved and being used to make UpCircles range also have some incredible benefits for your skin. In particular, they are all high in natural antioxidants and vitamins which help protect your skin from UV and pollution damage.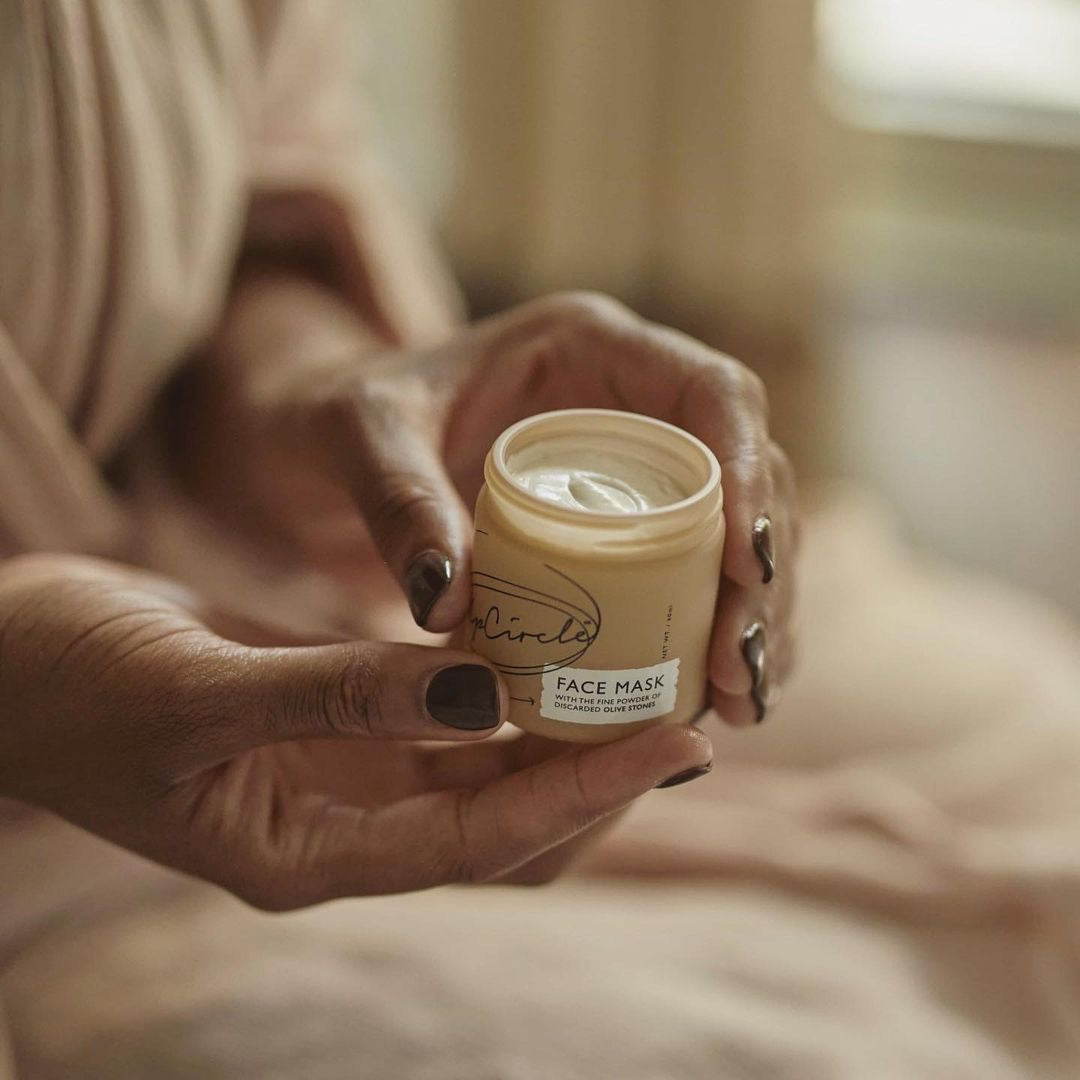 What is the vision of Upcircle?
Upcircle's mission is to be a beauty brand that makes a difference. It strives to inspire and encourage people to make the right choices for themselves and the planet. To achieve this they ensure the products are competitively priced, high performing and take advantage of upcycled ingredients which demonstrate that the beauty industry can be more sustainable. UpCircle products are all inclusive - they are body positive, gender neutral, represent all ages and encourage diversity. Their vision encompasses passion for sustainable beauty for all and always will. UpCircle has continued to build on their message of sustainability by packaging their products in an eco-friendly and where possible plastic-free way. This means 99% of their packaging is completely plastic-free and the remaining 1% can be sent back to them to be re-used or recycled.