This store requires javascript to be enabled for some features to work correctly.
The perfect sustainable solution to ditch those single use wipes for removing make up! These organic cotton make up remover pads by Zero Waste Club are reusable and made from organic cotton.
Pack of 16: 12x soft cotton pads for everyday cleansing and make-up removal and 4x "rough" cotton pads for hard to remove makeup and deep cleaning.
Comes with 100% cotton wash bag.
Plastic Free
Size: Pads approx 7.5cm diameter. Wash bag 18cm long x 15cm wide.
Product Information
Description

These reusable make up remover pads are to replace disposable ones. Disposable cotton pads promote unsustainably sourced cotton which often uses dangerous pesticides that are harmful to human life and natural ecosystems. The conventional cotton pads are also wrapped in plastic, therefore by investing in reusable ones, you can feel guilt free taking off your make up at the end of the day! These pads can also be used to remove face masks and cleansing balm.

Material:

4x 'Rough' Pads made with Terry Organic Cotton12x Soft Pads made with Velour Organic CottonWash Bag: 100% cotton
Care for your cotton rounds

Machine washable up to 40 degrees inside the included wash bag so they don't get caught in the door section of the washing machine. Tumble dry on a low heat. 100% biodegradable, so can be put into a compost bin at the products end of life.
Why We Love Zero Waste Club
Aim to make eco-friendly products more accessible to more people and to make it the number one consumer choice as opposed to buying plastic or unsustainable items.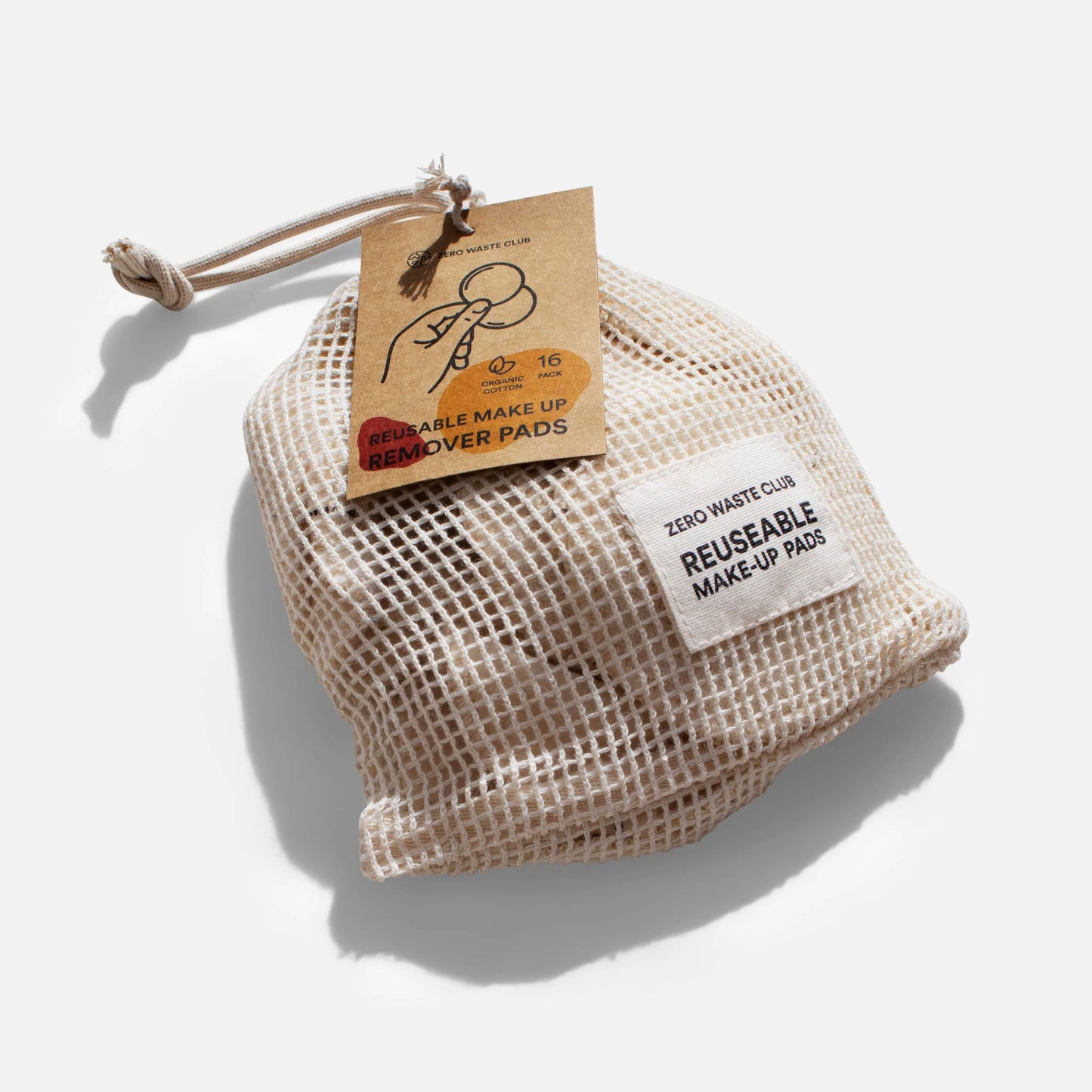 So what makes Zero Waste Club different?
Zero Waste Club doesn't just strive to make high quality sustainable products, they want to ensure that the people who make their products are happy making them. Zero Waste Club, ensure that their artisan makers are paid way above the minimum wage and have great working condition. They also believe that it is important to know where your products come from and what the working conditions are like for those who produce the product. Zero Waste Club predicts that they have offset over 300,000 pieces of single use plastics from entering our environment thanks to the introduction of reusable products, a number that we are sure will continue to increase.