This store requires javascript to be enabled for some features to work correctly.
Cleansing, Revitalising, Brightening.
Sanctuary is the re-formulated version of an NOA core classic 'Soft Sheets' blend – designed to bring comfort and sanctuary to your space wherever that may be. A soothing blend of Fresh Cotton, Violet, Cyclamen, Musk.
 Paraben & Phthalate free
100% Soy Wax
Cruelty-Free & Vegan
Plastic Free
180ml
Medium 180ml
Product Information
Description

Sanctuary - A place to provide comfort and safety, your sanctuary and home.

The roots - Our take on the traditional fresh linen scent, fresh linen blends have been a part of our core range since we started, what began as 'Soft Sheets' and a part of the original 4 in our range has recently been re-formulated to 'Sanctuary' with strong scent throw and beautiful clean cotton notes. This blend is designed to make any place feel like home.

Alpenglow's aura - creams, whites, magnolias.

For those who love - Refreshing and clean smelling blends.

Scent Profile:

Violet -Refreshing and brightening with delicate floral notes, Violet perfectly compliments the fresh cotton in this blend.

Clean Cotton -Smells like your favourite fresh washing, a common clean cotton smell. Homely, cosy and relaxing.
Burn time

Medium 180ml – The bestselling and most versatile size, perfect for bigger rooms and spaces, by the bedside and more!

Approximate Burn Time – 30-35 hours
NOA have a passion for creating blends that not only smell good, but do good for both your mind and the planet too.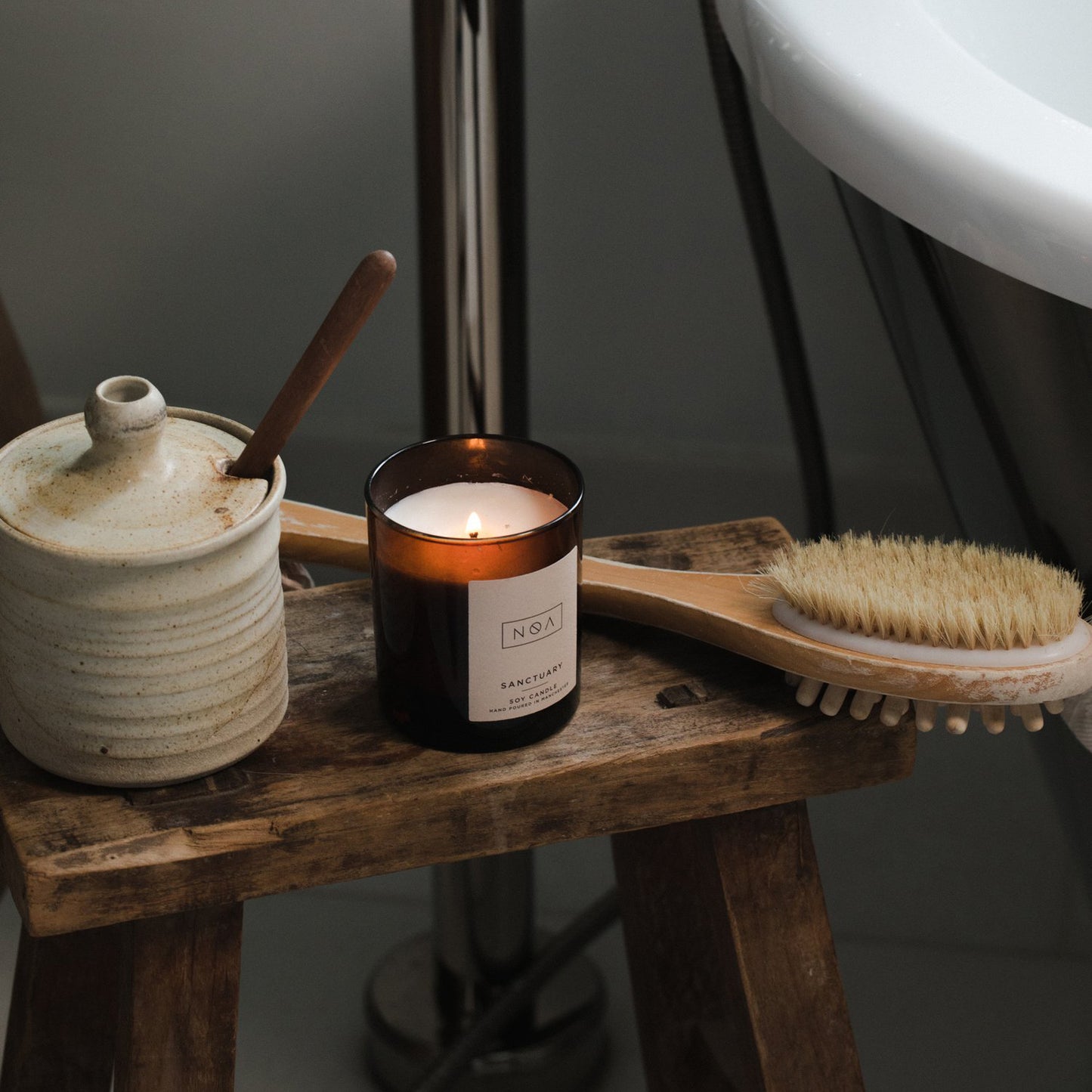 So what makes NOA so special?
Natasha the founder of NOA started creating candles in her kitchen to help escape from the stresses that university was bringing her and provide something to calm her anxious mind. Every product is hand poured in her Manchester studio and they only use vegan and cruelty-free fragrances and essential oils, which are the highest quality they can source from UK based suppliers. The core collection candles are entirely plastic free, poured into amber glass apothecary jars and made with sustainably sourced soy wax. All of the blends are paraben and phthalate free and made with 100% soy wax.