This store requires javascript to be enabled for some features to work correctly.
Nourishing cream for women who need an anti-redness product. Intended for sensitive and porous skin.
This active nutritional formula reduces the visibility of blood vessels and skin redness. The product is ideal for year-round care of delicate and porous skin. It strengthens and seals fragile blood vessels, effectively prevents skin cracking and lesion formation. It reduces skin redness while perfectly soothing, moisturising and regenerating the skin. It also shows anti-wrinkle effects.
Vegan Friendly
Cruelty Free
Organic Ingredients
Glass Bottle with pump
50ml
Product Information
Description

Chestnut extract - its most important component is a mixture of saponins called escin. It inhibits the activity of enzymes which contribute to the breakdown of hyaluronic acid, elastin and collagen. It strengthens and seals blood vessels while making them flexible. It also inhibits the development of new "spider veins" and reduces the visibility of the existing ones.

Witch hazel extract contains flavonoids for strengthening and protecting blood vessel walls. It has antibacterial and antiviral properties. It is an antioxidant preventing the harmful effects of free radicals. It accelerates wound healing and improves skin blood supply.

Black cumin oil contains the richness of vitamins A, E, F, B1, B3, B6 and biotin. It shows anti-inflammatory and antibacterial effects, alleviates the symptoms of acne, AD, rashes and skin allergies. Thanks to the valuable unsaturated fatty acids contained in the oil, it has moisturizing, nourishing and strongly regenerating properties. This natural antioxidant supports proper hydrolipid balance and protective functions of the skin.

Linden extract contains a wealth of active ingredients. Essential oils and flavonoids, vitamin C and PP have anti-radical, protective and moisturizing effects. The extract soothes skin irritations.

Shea butter is a raw material obtained from the seeds of the African butter tree. Rich in vitamins A and E, shea butter makes the skin smooth after application, covering it with a protective lipid film. It softens and tones the skin and provides a natural UV filter.

Cornflower extract obtained from cornflower flowers contains flavonoids, mineral salts and anthocyanins. It brightens, nourishes and moisturizes the skin. It smooths fine wrinkles and slightly tightens the skin. The cream soothes irritations and prevents allergic reactions.

Cypress cone extract has astringent, anti-seborrheic and anti-aging properties. It is used for treating inflammation, ruptured blood vessels and swelling.

Vitamin E - the vitamin of youth. It protects cells against free radicals. It is responsible for skin regeneration and its proper tone. It smooths wrinkles and prevents harmful UV radiation. It nourishes the skin while soothing inflammation and irritation.
Ingredients

Aqua, Oenothera Biennis Oil, Isoamyl Laurate, Cetearyl Glucoside, Glycerin, Sorbitan Olivate, Cetearyl Alcohol, Olea Europaea Fruit Oil, Nigella Sativa Seed Oil, Butyrospermum Parkii Butter, Benzyl Alcohol, Aesculus Hippocastanum Seed Extract, Niacinamide, Hamamelis Virginiana Bark/Twig Extract, Tilia Cordata Wood Extract, Chondrus Crispus Extract, Cupressus Sempervirens Seed Extract, Centaurea Cyanus Flower Extract, Lithothamnion Calcareum Extract, Lecithin, Tocopherol, Sodium Anistate, Butylene Glycol, Acacia Senegal Gum, Xanthan Gum, Trisodium EDTA, Sodium Metabisulfite, Sodium Benzoate, Potassium Sorbate, Sorbic Acid, Dehydroacetic Acid, Parfum.
How to use

Apply the cream to a perfectly cleansed face, neck and cleavage, then gently pat with your fingertips.
Krayna believe that the true beauty comes from nature.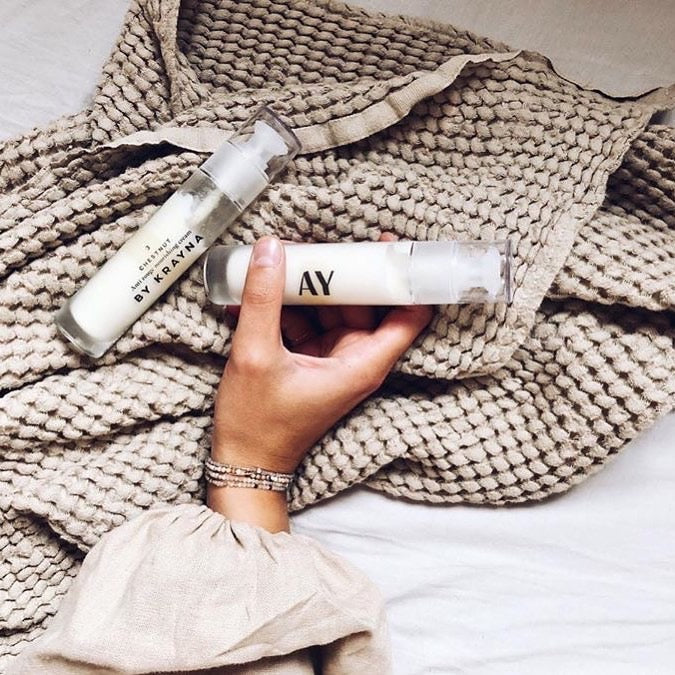 So what makes Krayna so special?