This store requires javascript to be enabled for some features to work correctly.
A light, multi-functional cream with a delicate texture for women intended for sensitive and problematic skin.
A soothing cream with an innovative formula based on carefully selected natural ingredients. It improves the condition of the skin while maintaining its youthful appearance and glow. The selected cream composition will relax and hydrate dry skin and reduce sebum production and blackhead visibility in oily or combination skin. A real light moisturiser which supports epidermis regeneration and soothes the symptoms of hypersensitivity or the feeling of greasy skin. Instead, your skin becomes velvety smooth and tense. It looks healthy and radiant.
Vegan Friendly
Cruelty Free
Organic Ingredients
Glass Bottle with pump
50ml
Product Information
Description

Water pepper extract is rich in silica, flavonoids, organic acids, mineral salts, vitamins A and C. It is called "the elixir of youth" for a reason: the extract prevents signs of skin aging. It has antiseptic and anti-inflammatory properties.

Kali Musli extract contributes to the internal pH control processes in the skin and to restoring the proper protective function. It significantly reduces reactivity and sensitivity. It regenerates and rebuilds skin from the inside.

Evening primrose oil contains a large amount of linoleic acid (EFA) and GLA (gamma-linolenic acid) from the group of Omega-6 unsaturated fatty acids. It accelerates wound healing, so it is amazing for any skin lesions and abrasions. In addition, it contains phytosterols, sulphur amino acids, vitamin E, zinc, selenium, magnesium and calcium, which contribute to a range of beneficial effects and excellent tolerance by all skin types.

Black cumin oil the richness of vitamins A, E, F, B1, B3, B6 and biotin. It shows anti-inflammatory and antibacterial effects, alleviates the symptoms of acne, AD, rashes and skin allergies. Thanks to the valuable unsaturated fatty acids contained in the oil, it has moisturizing, nourishing and strongly regenerating properties. A natural antioxidant. It supports proper hydrolipid balance and protective functions of the skin.

Marigold extract shows antibacterial, anti-inflammatory and anti-fungal properties. Its effectiveness is due to the high content of saponin, sterols and carotenoids.

Pumpkin seed oil is one of the most valued oils which owes its conditioning effect to the richness of vitamins E, C, D, B, Omega 3, Omega 6 fatty acids and antioxidants. It improves skin tone, supports its faster regeneration and soothes irritations.

Sunflower seed oil moisturizes and stimulates cells and supports the regeneration of the natural lipid layer of the epidermis. It moisturises the skin, regulates water management and reduces excessive sebum production - without clogging skin pores.
Ingredients

Aqua, Isoamyl Laurate, Oenothera Biennis Oil, Helianthus Annus Seed Oil, Glyceryl Stearate Citrate, Cetearyl Alcohol, Cetearyl Glucoside, Glycerin, Sorbitan Olivate, Nigella Sativa Seed Oil, Cucurbita Pepo Seed Oil, Benzyl Alcohol, Panthenol, Curculigo Orchioides Root Extract, Chondrus Crispus Extract, Polygonum Aviculare Extract, Calendula Officinalis Flower Extract, Lithothamnion Calcareum Extract, Sodium Anisate, Propanediol, Pantolactone, Acacia Senegal Gum, Xanthan Gum, Sodium Benzoate, Potassium Sorbate, Dehydroacetic Acid, Parfum.
How to use

Apply the cream to a perfectly cleansed face, neck and cleavage, then gently pat with your fingertips.
Krayna believe that the true beauty comes from nature.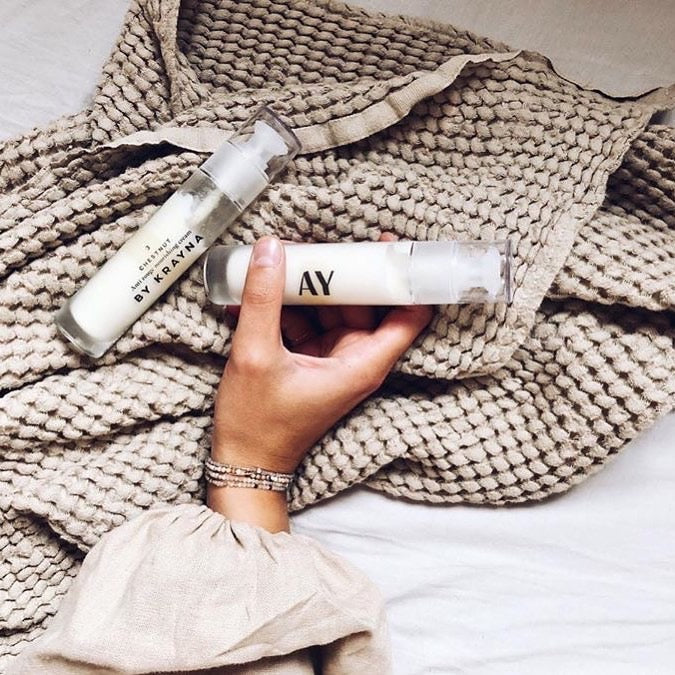 So what makes Krayna so special?