This store requires javascript to be enabled for some features to work correctly.
Neutralize Exfoliant is made with Organic Lemon Balm floral water to help tone and tighten your skin. This face exfoliator uses Tea Tree and Lemongrass essential oils to help control oiliness.
Vegan Friendly & Cruelty Free (Leaping Bunny)
Plastic Free – Aluminium bottle
Natural Ingredients
Free From Parabens, PEG's, SLS, Phtalate, Triclosan & Synthetic Fragrances
Palm Oil Free
100ml
Product Information
Description

Neutralize Exfoliant is a balancing face scrub. Organic Tea Tree and Lemongrass essential oils help control oiliness. Shortlisted in the highly acclaimed Free From Skincare Awards! This Exfoliator for Oily Skin –

'I loved this from the moment I used it. Lovely non-sweet citrus fragrance and good to use as it felt it was doing its job without being too scratchy. Really liked the exfoliating component which felt like a sort of gentler form of salt.' Free From Skincare Awards Tester comment.

How do the active ingredients in this exfoliator for oily skin work?


The anti-acne formula is a key active ingredient. It helps to reduce the occurrence of acne breakouts. It also works as an anti-inflammatory and anti bacterial treatment for your skin.

Organic Lemon Balm Floral Water is ideal for sluggish and problematic skin and also helps to tighten and boost! In addition it has a lovely refreshing fragrance. Organic Lemongrass oil works as an astringent to cleanse and tone oily skin. It can further benefit your skin by reducing pore size and helping with acne. There are many skin benefits of Organic Tea Tree oil which is antiseptic, bactericidal and antifungal. The invigorating and fresh fragrance helps refresh and cleanse skin. Also included is a special organic Anti-Acne blend. This includes Acai Oil, Andiroba Oil and Copaiba Balsam. These are all full of natural antioxidants. Other key benefits are anti-inflammatory and antibacterial properties. This anti-acne formulae also has a number of active components. Beta-caryophylene, flavonoids and limmonoids are all high in antioxidants, and are effective in the skin cell renewal process. Organic Aloe Vera Juice is full of bioactive compounds. This includes amino acids, vitamins and minerals. It is one of nature's most effective cleansers! It has a gentle, calming and soothing effect. Another benefit is that it acts as an excellent skin moisturiser, supplying oxygen to skin cells which helps with any skin irritation.Eco friendly Exfoliator for Oily Skin!
This face exfoliator uses Almond shell which is completely biodegradable. These finely ground particles are an effective natural exfoliant. They help to remove the dead outermost surface of your skin with light abrasion. This will allow the softer, more youthful looking skin cells to be revealed.
Ingredients

melissa officinalis (lemon balm) floral water* aloe barbadensis (aloe vera) leaf juice* prunus amygdalus (almond) shell powder xanthan gum melaleuca alternifolia (ti tree) oil* cymbopogon citratus (lemon grass) oil* benzyl alcohol copafeira officinalis (copaiba balsam) resin* sodium benzoate salicylic acid carapa guaianensis (andiroba) seed oil* euterpe oleraca (acai)fruit oil* glycerine citric acid sorbic acid potassium sorbate naturally occurring citral geraniol d-limonene * denotes organic
How to Use

Open bottle to pour a small amount of exfoliant onto clean finger tips. Work gently over skin in small circular movements. Avoid eyes. Wash off with warm water. Pat dry. We recommend exfoliating approximately once a week  
Why We Love Conscious Skincare
Conscious Skincare's philosophy is to make natural and organic skin care with a clean conscience.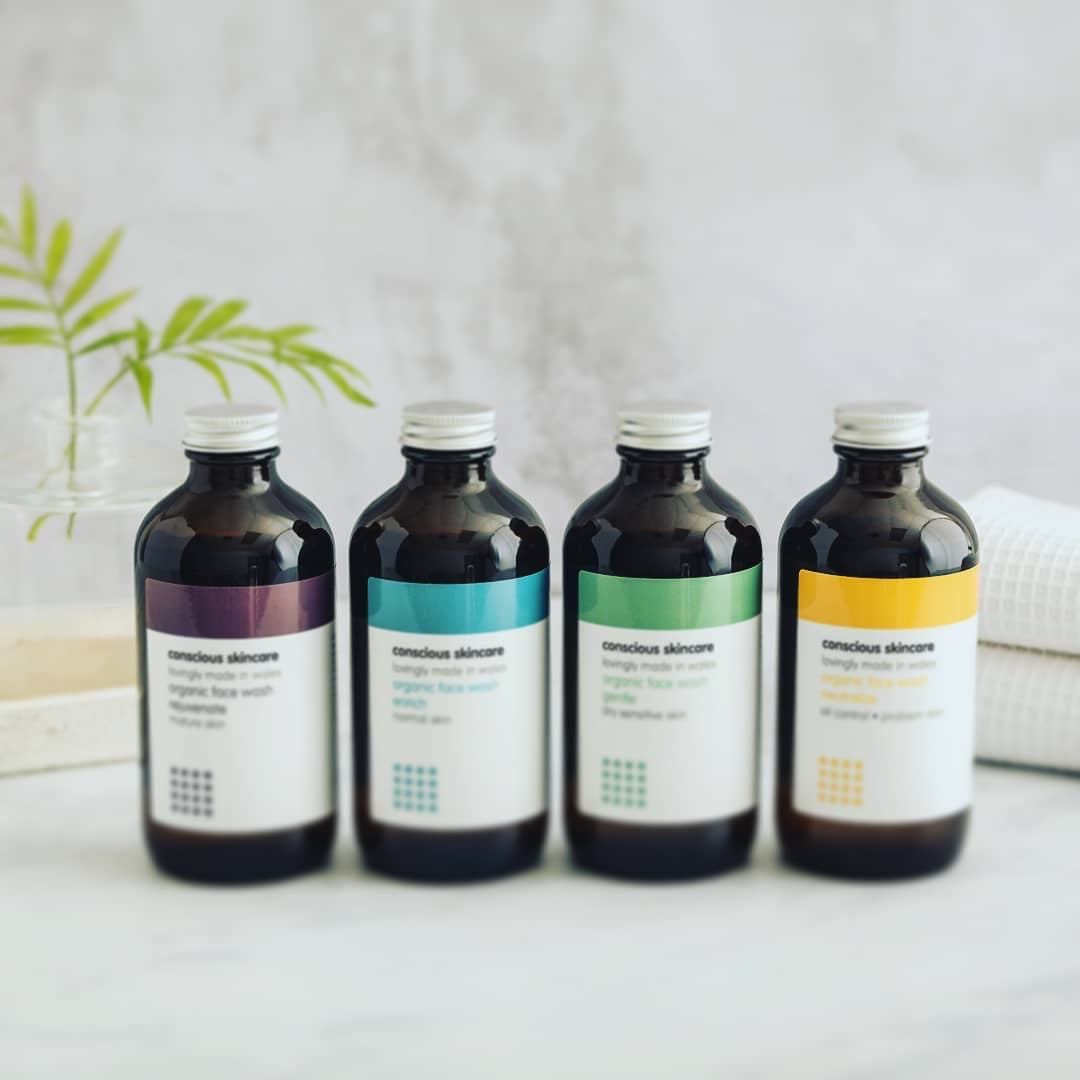 So what makes Conscious Skincare different?
Conscious Skincare was created to help provide rich and effective skincare, support those with sensitive skin and provide a range of products free from toxins and harmful chemicals. All of the range is vegan, plastic free and organic with ethically sourced, natural ingredients.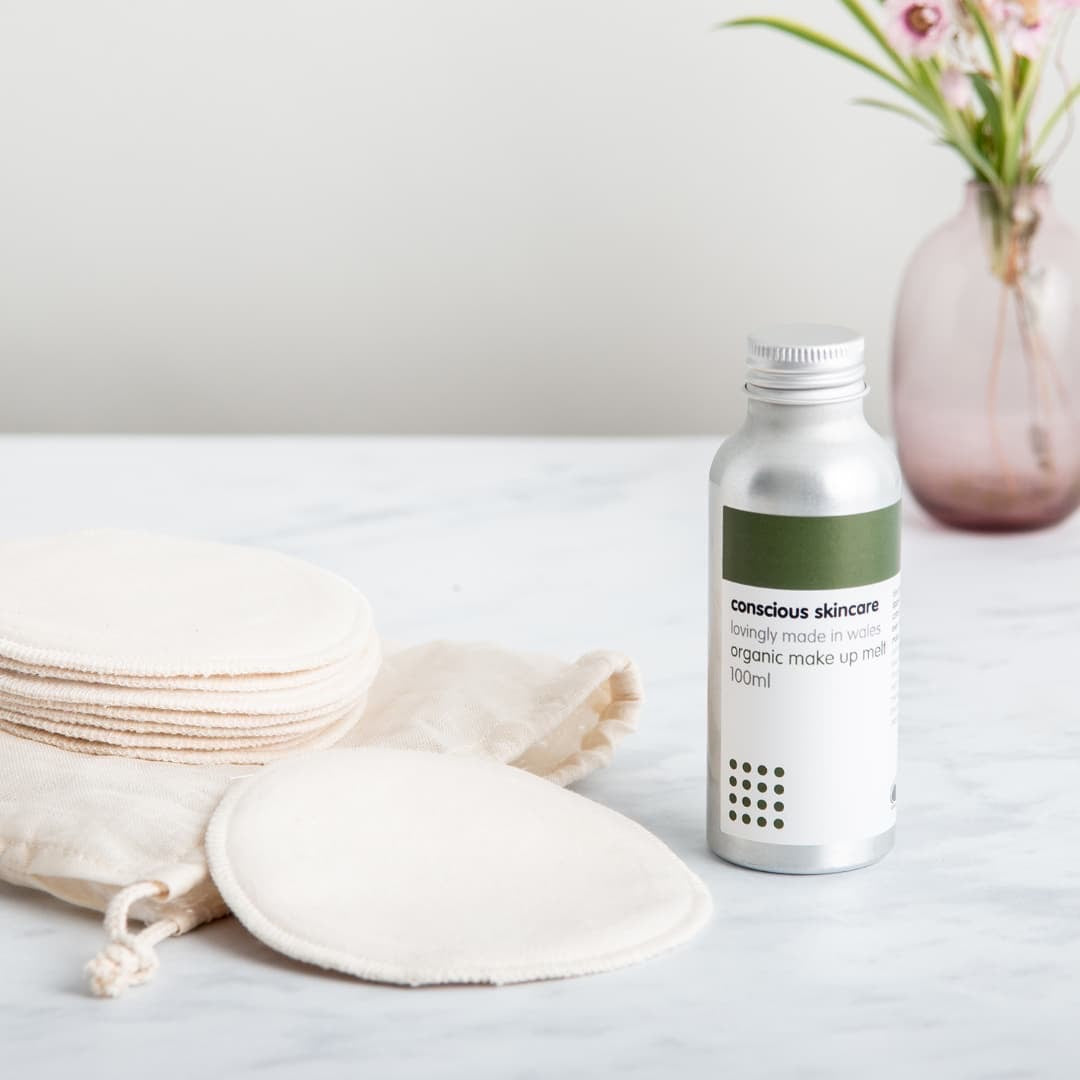 Award winning skincare
Rebecca (founder of Conscious Skincare) produces the whole range in-house from their rural workshop in West Wales. She has always worked hard to ensure that all of the products are cruelty-free and are therefore certified by PETA and Cruelty-Free International. Over the last 10 years, they have gained wide recognition and accreditation winning numerous awards from Ethical Best Buy, Vegan Society EWG and more.