This store requires javascript to be enabled for some features to work correctly.
A Natural Hair Conditioner suitable for all hair types. Made with active ingredients to moisturise and nourish with a fresh, herbal fragrance.
Vegan Friendly & Cruelty Free (Leaping Bunny)
Plastic Free – Glass jar
EWG Verified
Natural Ingredients
Gluten Free
Free From Parabens, PEG's, SLS, Phtalate, MSG, Triclosan & Synthetic Fragrances
Palm Oil Free
Comes in either a White or Amber coloured bottle
235ml
Product Information
Description

This newly formulated Natural Hair Conditioner contains a number of active ingredients. These nourish, replenish and moisturise your hair. It also contains Cypress, Sage and Lavender essential oils. These have a number of benefits for hair care and give a fresh and uplifting scent.

How will this natural hair conditioner work for your hair?

This special formulation contains a number of active ingredients and hair-loving essential oils including Cypress, Sage and Lavender. It also has a fresh and uplifting herbal fragrance. A key active ingredient is Organic Coconut Oil. This wonderful oil moisturises dry hair and adds shine and lustre. It can benefit hair growth and slow down hair loss. Coconut oil also promotes the health of your scalp by working against dandruff and dry skin. Another great active is Organic Shea Butter. This is a fantastic moisturizer! It works well when applied to hair as it helps prevent it from drying out by coating each strand of hair in a thin layer of fat (non-greasy). Jojoba oil is used in this hair conditioner as it is rich in nutrients which help hydrate your hair follicles without leaving residues. It has a wax like structure which means it also acts as a hair serum improving general shine and health. We have also added Organic Olive Oil as it is a great ingredient for hair. It has good moisturising properties which help promote healthier and stronger hair. Similar to Jojoba Oil, it is rich in vitamin E, with antioxidant benefits. When applied to your hair oils in general help slow the loss of moisture from hair strands and therefore retain existing moisture.

'I often struggle to find natural hair conditioners that are hydrating enough for my dry hair, but thankfully this matching Cypress and Sage one is definitely one of the best that I've tried for daily or regular use. I absolutely adore the Cypress and Sage scent too – the more I use it, the more I love it!' Review by natural beauty blogger Evelyn.

Lavender essential oil helps to soothe and moisturize your scalp with antimicrobial properties. It can also help prevent hair loss and has a relaxing and calming scent. Sage essential oil works to reduce product build up in your hair and scalp. Sage oil also has beneficial properties that help address dandruff and oily hair. Cypress essential oil has a refreshing and calming fragrance. It works as an astringent to make skin and hair follicles contract which helps to prevent hair loss.

Pair it with Conscious Skincare's Cypress and Sage Organic Shampoo as the perfect organic shampoo and conditioner combination!

Natural Hair Conditioner is free from all toxic ingredients. We have listed below just a few examples of toxic ingredients often found in shampoos and conditioners – there are many more!

Sodium Lauryl Sulfate (SLS) – a foaming agent used in garages as a degreasing chemical. Dioxane – in 1985 the FDA requested that manufacturers voluntarily limit dioxane levels in cosmetics to 10 parts per million. Independent testing in the USA has shown this has not happened. Diethanolamine (DEA) reacts with nitrite preservatives to create (NDEA) – a known carcinogen. Shampoos have the highest concentrations. MSG – you often avoid this in food. Propylene Glycol – used in numerous commercial products including antifreeze, paints, varnishes etc. It is recommended users avoid any skin contact as it is a strong irritant, but is amazingly found in hair care products!

 

Please handle glass carefully! Place securely before use and avoid handling with wet hands.
Ingredients

aqua cetearyl alcohol betaine coco-glucoside shea butter (butyrospermum parkii)* olive (olea europea) fruit oil* sunflower (helianthus annuus) seed oil* coconut (cocos nucifera) oil* jojoba (simmondsia chinensis) seed oil* aloe vera (aloe barbadenis) leaf juice powder* xantham gum phenoxyethanol citric acid lactic acid benzoic acid dehdroacetic acid tocopherol lavender oil cypress oil sage oil * denotes certified organic
How to Use

Apply a small amount of Organic Shampoo to wet hair. Massage through hair and rinse thoroughly. Avoid eyes. Follow with Organic Conditioner if required. Please handle glass carefully! Place securely before use and avoid handling with wet hands.
Why We Love Conscious Skincare
Conscious Skincare's philosophy is to make natural and organic skin care with a clean conscience.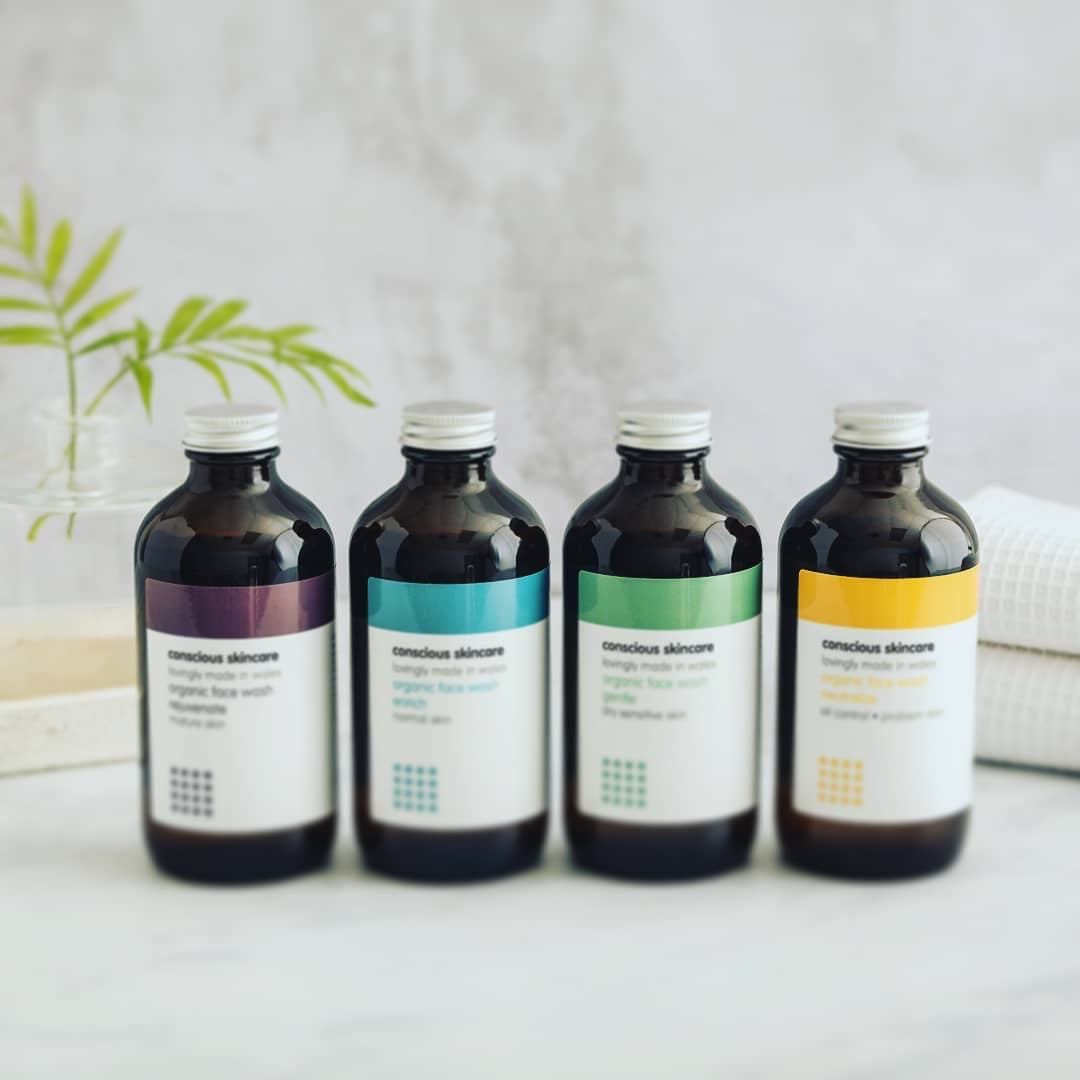 So what makes Conscious Skincare different?
Conscious Skincare was created to help provide rich and effective skincare, support those with sensitive skin and provide a range of products free from toxins and harmful chemicals. All of the range is vegan, plastic free and organic with ethically sourced, natural ingredients.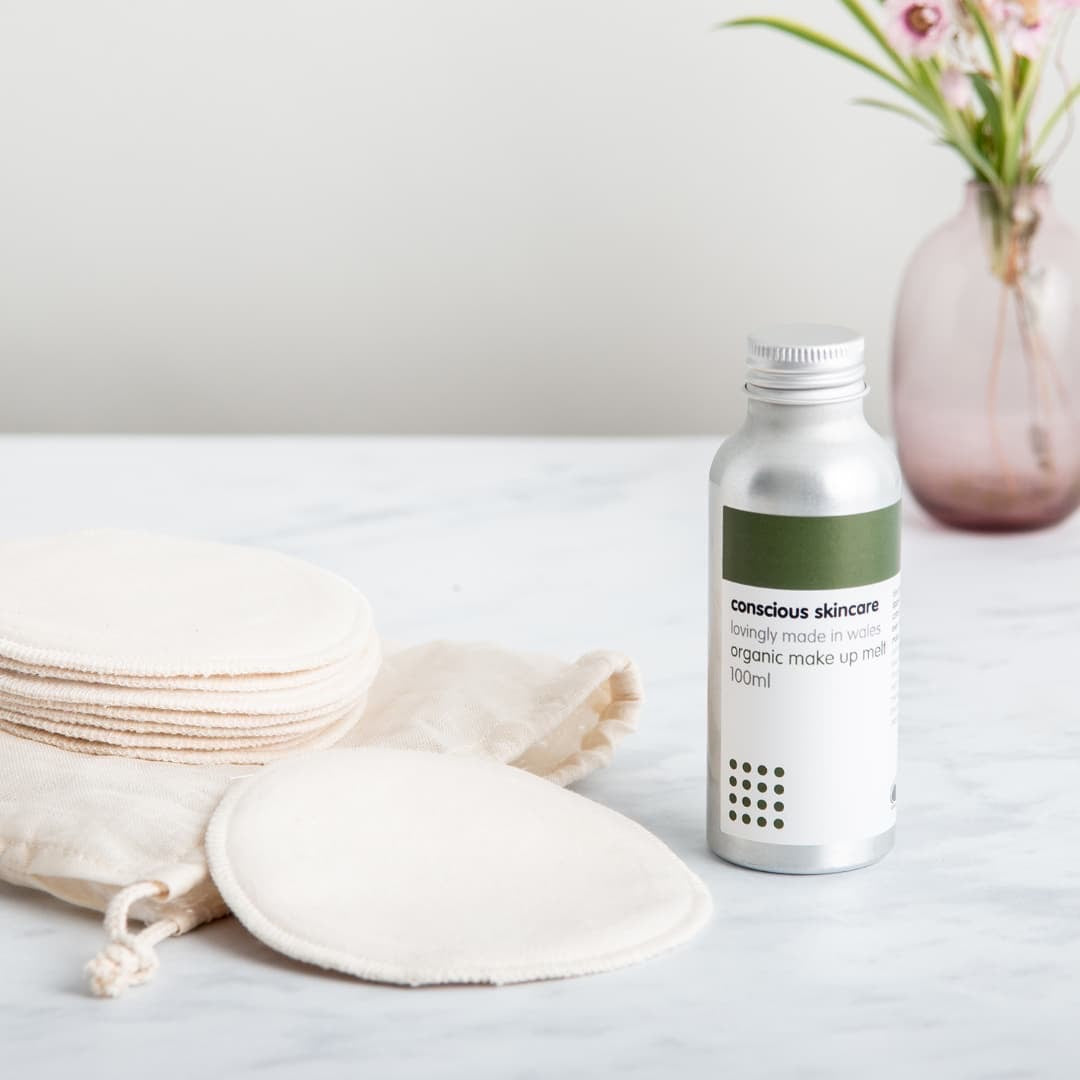 Award winning skincare
Rebecca (founder of Conscious Skincare) produces the whole range in-house from their rural workshop in West Wales. She has always worked hard to ensure that all of the products are cruelty-free and are therefore certified by PETA and Cruelty-Free International. Over the last 10 years, they have gained wide recognition and accreditation winning numerous awards from Ethical Best Buy, Vegan Society EWG and more.