This store requires javascript to be enabled for some features to work correctly.
The Suntribe Face & Sport Sunscreen is developed in Sweden from 100% natural and organic ingredients. Gentle on your skin and safe for the environment, especially for coral reefs. Uses Non-nano Zinc Oxide as the only mineral UV-filter which research deems the safest and most effective form of UV protection available. Developed with surf teachers, perfect for all action sports such as surfing, kiting, running, hiking, sailing, climbing and skiing. It is extremely water and sweat resistant, whitening. Contains just 3 ingredients: Zinc Oxide, Beeswax and Coconut Oil – that's all.
SPF 30, broad spectrum protection against UVA and UVB rays.

Reef safe 

Cruelty free

Plastic-free, comes in a recycled aluminium tin with recycled paper labels
Product Information
Description

Safe and effective SPF 30, broad spectrum protection against UVA and UVB rays. Extremely water and sweat resistant making it perfect for use during sporting activities, especially water sports.

Lasts for one year after opening. Lasts for around three months when applied daily.
Ingredients

Three all natural and organic ingredients: Organic Coconut Oil, Organic Beeswax, Non-Nano Zinc Oxide
How to Use

The thick formula is developed mainly for application on your face, shoulders, hands and arms.

Easiest to apply at room temperature (21 degrees or above). In colder temperatures, keep the tin in your pocket or warm it in your hand for a minute.

Apply a transparent layer when spending up to two hours under low sun exposure (before 11am or after 4pm). When spending the whole day in highly reflexive environments (snow/water) or under high sun exposure (11am-4pm), apply a thick visible layer in addition
What's not to love about sunscreen that is safe for you and nature, 100% Organic and free from any synthetic chemicals, whilst also protecting you from both UVA & UVB light rays?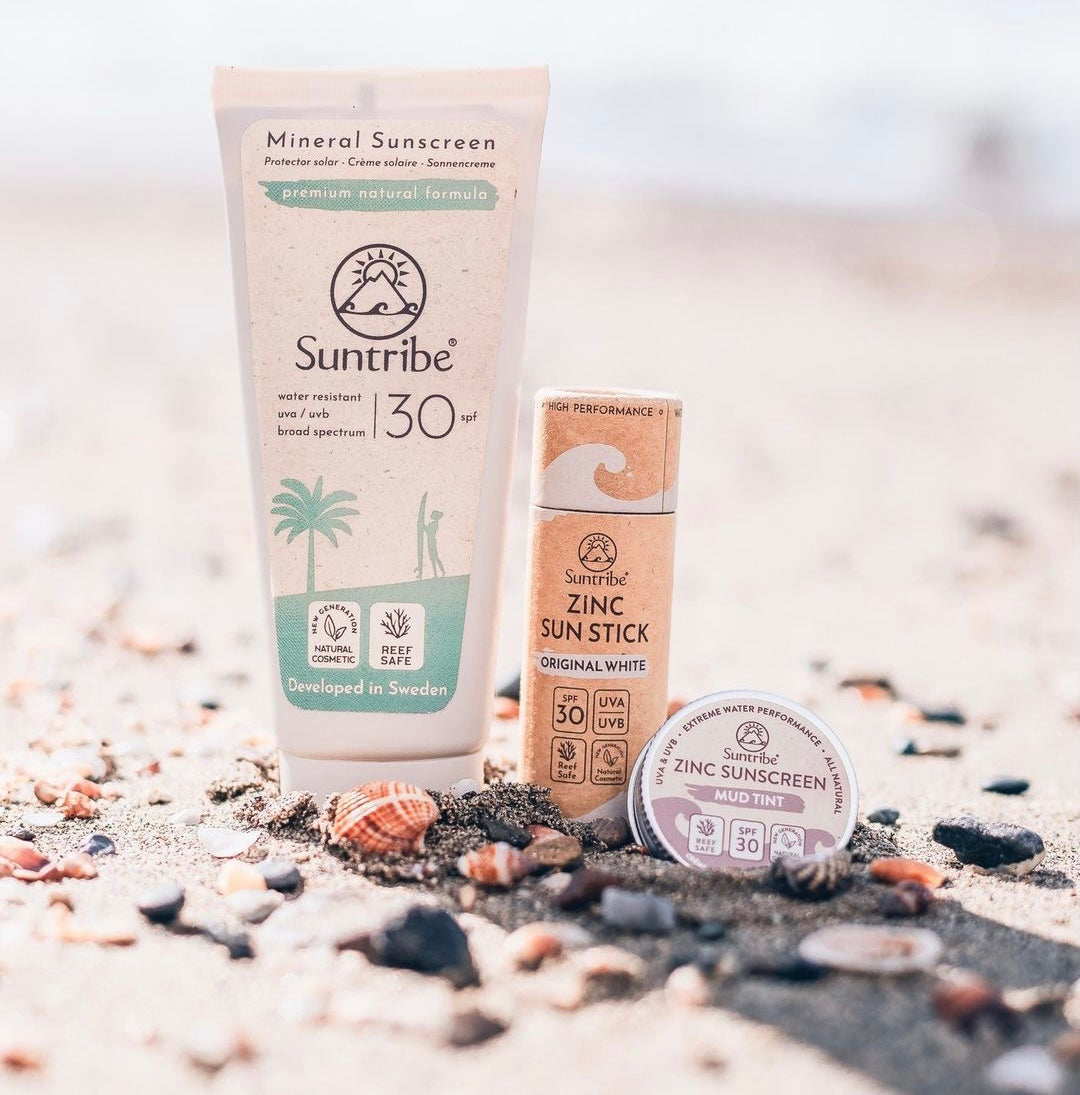 So what makes Suntribe so special?
Suntribe was born in Sweeden when three friends and keen surfers wanted to protect their skin from the sun whilst also protecting nature, the place where they felt most at home. Every year, 14 000 tons of sunscreen are washed into the ocean from swimmers, leading to widespread destruction of marine life. 10% of the world's coral reefs are threatened by bleaching caused by the most commonly used chemical UV-filter, Oxybenzone. To counter the problem, at Suntribe have developed scientifically validate sunscreens that are 100% safe for marine life. With this ethos, they created worry-free natural sunscreens and skin balms that have no unnecessary ingredients like perfumes and preservatives. Their products prove that you can have high-function sun protection and skincare with no need for a compromise.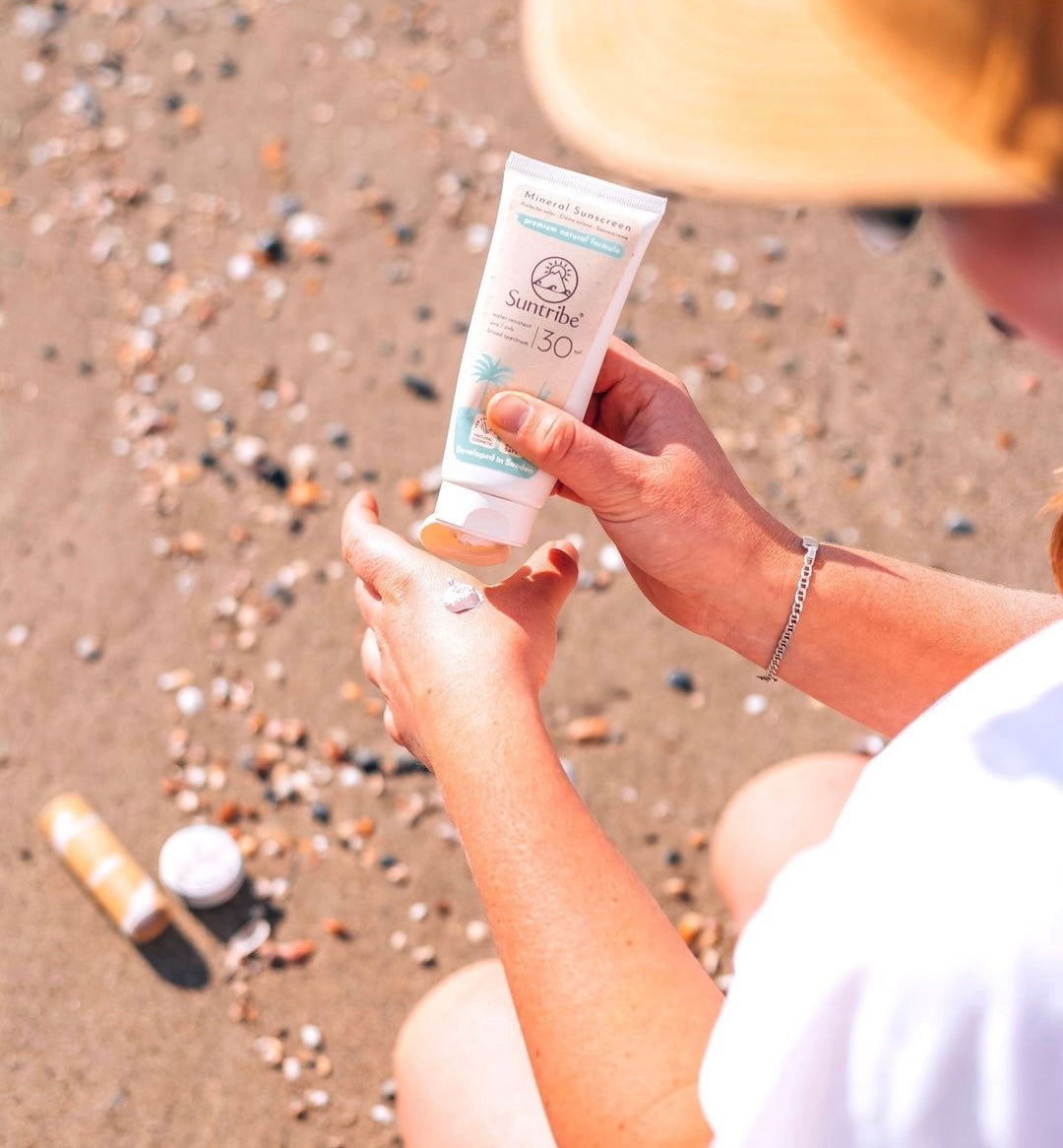 What is Suntribe's philosophy
 Suntribe is grounded in only using ingredients that have been proven safe for both us humans and the environment – while still retaining functionality and protection. That's why they only use organic oils, waxes, butters and natural minerals to formulate their cosmetics. They then put all of their products through tough, real-world test sessions before they launch them. If they develop a sunscreen for surfers, they make sure it is tested it in the harshest weather conditions, on many different skin types, and in the biggest waves until they are 100% happy with how it works.