This store requires javascript to be enabled for some features to work correctly.
This light lather wash will leave your hair feeling squeaky clean, will remove the build-up you have on your hair and will leave your body smooth, moisturised and clean. In addition it will leave your conscience clear knowing you've made a good choice for the planet. The powder is packed in a compostable sachet so you can put the sachet in the compost bin once it's finished. The labels will need to go in the regular paper recycling bin, leaving you with zero waste.

If you want to make a change to a more sustainable lifestyle by cutting down on plastic or if you want something gentle but effective on your skin, then this is for you.
99% natural ingredients

Suitable for vegans & 

Cruelty free 

Waterless for lower carbon footprint. 

Sachets are fully compostable leaving you with no waste. 

Allergen free

Free from palm oil, parabens & SLS
Suitable for those with sensitive skin.
Product Information
Description

Milly & Sissy delicately formulated and fragranced products are made from 99% natural ingredients and once water is added, will make 500ml.   Their products use no animal-derived ingredients and so are suitable for vegans, they are also cruelty free, and as there is no water, they are much lower in transport carbon emissions, leaving your conscience clear knowing you've made a good choice for the planet.
Ingredients

Aqua, sodium coco sulfate, sodium olivate, sodium cocoate, xanthan gum, citric acid, parfum, kaolin, olea europaea fruit oil, glycerin, sodium chloride, tetrasodium glutamate diacete, gluconolatone, sodium benzonoate, calcium gluconate
How to use

How to make: fill bottle with 400ml tepid water (if you prefer a more a more liquid creme, you can add up to 450ml).  Loosen the powder in sachet and pour carefully into the bottle.  Give it a good shake.  Leave it overnight for all the ingredients to make friends.  Give it another good shake in the morning and you're ready to go! Your product will be white with small, all natural 'moisture beads' still visible when made up.  It is a lower lather, super moisturising crème suitable for the whole family, even those with sensitive skin.
Why We Love Milly & Sissy
Milly & Sissy's aim is to help reduce our negative impact on our environment; to reduce consumption, reduce waste and reuse as much as possible.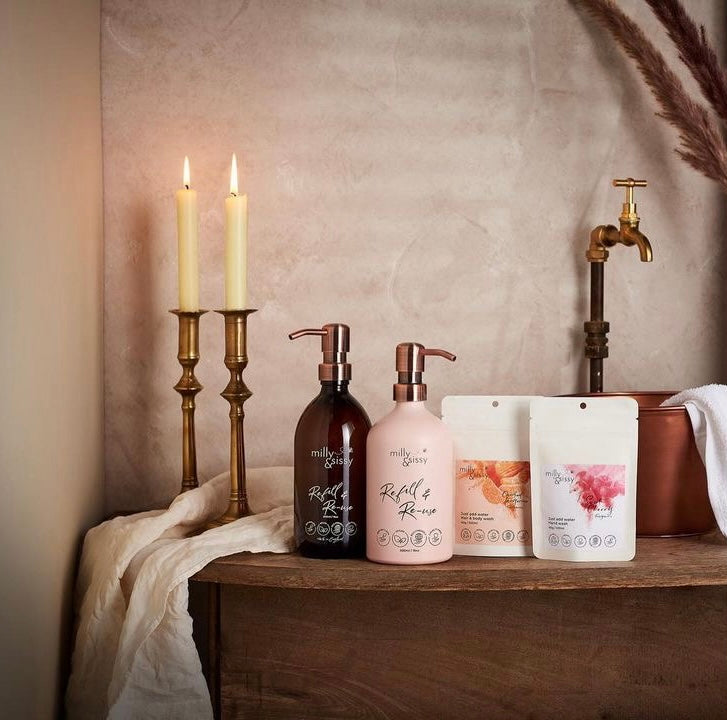 So what makes Milly & Sissy so special?
All of their products are made from 99.7% natural ingredients with a base of olive oil, coconut oil and argile. All their products are free from SLS, parabens, allergens and palm oil and all are shipped in plastic free packaging. The sachets that they use for their packaging are all 100% home compostable and so you can be happy knowing that you are having little impact on the environment and helping to reduce waste.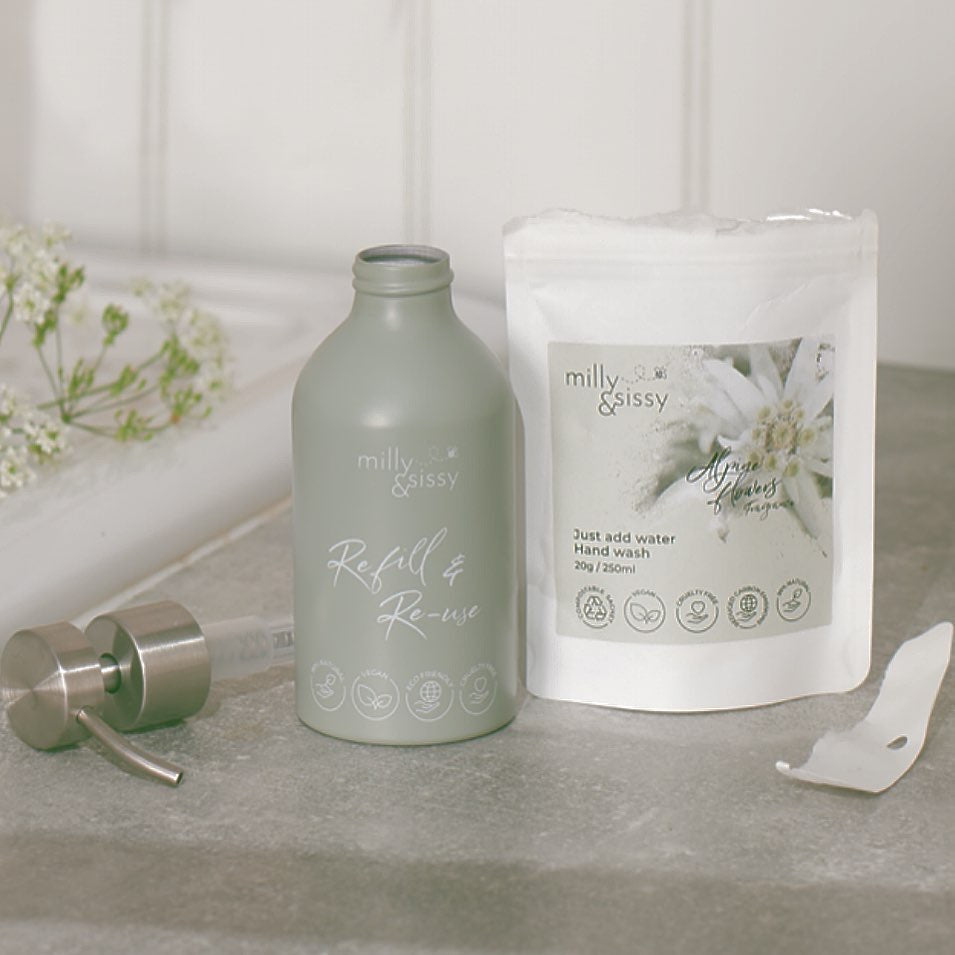 What Milly & Sissy stand for
Their aim is to reduce the negative impact we have on our environment helping to combat the planetary plastic crisis that we are currently facing. They do this by helping to reduce consumption, reduce the amount of waste produced and reuse as much as possible. They want to help us all to do a little bit more to in the battle to consume less, waste less and pollute less, believing that every single person can make a difference. It is only through every single one of us making small change that will mean a difference will be made in protecting our planet.